ETHNOSCIENCE STUDY OF YUR LOCAL WISDOM OF KANUM TRIBE IN MERAUKE
Keywords:
ethnoscience, yur local wisdom, kanum tribe
Abstract
Kanum tribe is one of indigenous tribes in Merauke which depend their live on nature. One of their local wisdoms is yur, which was done on plant at harvest time. The principle of yur is prohibits human to take that plant at the certain time. The aim of this research is to describe yur local wisdom with ethno-science study. This research conducted in Tomer village, habitat of Kanum tribe in Naukenjerai District, Merauke. Data collected direct observation to Tomer village, interview with some people of Kanum tribe, and also literature study. The result of this study show that yur local wisdom can analyze with biology, physic, and chemistry science. This local wisdom can protect every step of plant growing, namely pollination, fertilization, development of ovule into seed, ovary into fruit, and until it becomes a perfectly ripe fruit. Furthermore, yur can take care of imbibition, photosynthesis, and transpiration process. Finally, from all of that, yur can conserve the growing process of plant until harvest time.
Downloads
Download data is not yet available.
References
Arfianawati. (2016). Model pembelajaran kimia berbasis ethno-science untuk meningkatkan kemampuan berpikir kritis siswa. Jurnal Pengajaran MIPA, 21(1), 46–51.
BPS (2023). Kabupaten Merauke dalam angka 2023. BPS Kabupaten Merauke.
Hadi, W.P., et al. (2019). Terasi Madura: Kajian etnosains dalam pembelajaran IPA untuk menumbuhkan nilai kearifan lokal dan karakter siswa. Quantum: Jurnal Inovasi Pendidikan Sains, 10(1), 45-55.
Hallatu, Trinovianto George Reinhard, Darsono Wisadirana, Sholih Mu'adi, and Anif Fatma Chawa. (2021). Habitus and symbolic violence in sar culture, Merauke, Papua. JSW (Jurnal Sosiologi Walisongo), 5(1), 1–14.
Jundiani. (2018). Local wisdom in the environmental protection and management. Proceedings IOP Conf. Earth and Environmental Science 175.
Kelana, J.B., Wardani, D.S., Wulandari, M.A. (2021). Etnosains sebagai sumber belajar di sekolah dasar. JIKAP PGSD : Jurnal Ilmiah Ilmu Kependidikan, 5(1), 175–80.
Kurnia, Ganjar et al. (2022). Local wisdom for ensuring agriculture sustainability: A case from Indonesia. Sustainability (Switzerland), 14(14), 1–13.
Kurniasari, et.al. (2018). Kearifan lokal petani tradisional Samin di Desa Klopoduwur , Kecamatan Banjarejo, Kabupaten Blora. Jurnal Habitat, 29(1), 33–37.
Ngongo, Yohanis et al. (2022). Local wisdom of west Timorese farmers in land management. Sustainability (Switzerland,) 14(10), 1–21.
Novitasari, Linda et al. (2017). Fisika, etnosains, dan kearifan lokal dalam pembelajaran sains. Seminar Nasional Pendidikan Fisika III 2017, 81–88.
Palittin, I. D., Supriyadi, and Hasnich Aristia. (2019) Kajian fisika lingkungan berbasis etnosains pada budaya Sar Suku Kanum di Merauke. Jurnal Pendidikan Fisika Online Tadulako, 7(3), 11-15.
Pranata, Joni, Hadion Wijoyo, and Agung Suharyanto. (2021). Local wisdom values in the pujawali tradition. Budapest International Research and Critics Institute (BIRCI-Journal): Humanities and Social Sciences, 4(1), 590–96.
Primayanti, Ni Wayan, and Virienia Puspita. (2022). Local wisdom narrative in environmental campaign. Cogent Arts and Humanities, 9(1), 57-68. https://doi.org/10.1080/23311983.2022.2090062.
Sibarani, R. (2018). The role of local wisdom in developing friendly city. Proceedings IOP Conf. Series: Earth and Environmental Science 126. Available from https://doi.org/10.1088/1755-1315/
Sidiq, R, S Sofro, A Sulistyani, and W Achmad. (2022). Duanu's Tribe Local Wisdom And Traditional Ecology: A Way To Survive. Webology, 19(1), 5704–15. https://www.webology.org/data-cms/articles/20220201053536pmB2.pdf.
Sudarmin. (2015). Pendidikan karakter, etnosains, dan kearifan lokal. Universitas Negeri Semarang.
Supriyadi, and Evy Nurvitasari. (2019). Inventarisasi sains asli suku Malind : Upaya dalam pengembangan kurikulum IPA kontekstual papua berbasis etnosains. EduSains: Jurnal Pendidikan Sains dan Matematika, 7(1), 10–21.
Tamalene, M N. & Almudhar, H. I. (2017). Local knowledge of management system of forest ecosystem by Togutil ethnic group on Halmahera island, Indonesia : Traditional, utilization, and conservation. International Journal of Conservation Science, 8(3), 497-508.
Widana, I. W., Sumandya, I. W., & Asih, N. P. R. T. (2023). Evaluative study: Literacy outreach program based on local wisdom at SDN 1 Apuan Bangli. JISAE: Journal of Indonesian Student Assessment and Evaluation, 9(1), 26 - 36. https://doi.org/10.21009/jisae.v9i1.32533
Widana, I. W., Sumandya, I. W., Citrawan, I. W. (2023). The special education teachers' ability to develop an integrated learning evaluation of Pancasila student profiles based on local wisdom for special needs students in Indonesia. Kasetsart Journal of Social Sciences, 44(2), 527–536. https://doi.org/10.34044/j.kjss.2023.44.2.23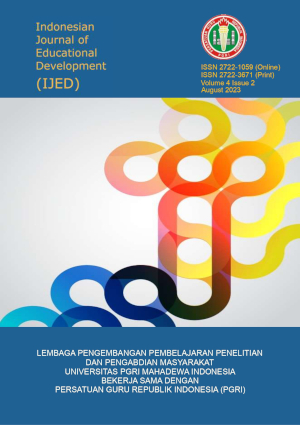 How to Cite
Palittin, I., & Hallatu, T. G. R. . (2023). ETHNOSCIENCE STUDY OF YUR LOCAL WISDOM OF KANUM TRIBE IN MERAUKE. Indonesian Journal of Educational Development (IJED), 4(2), 166-172. https://doi.org/10.59672/ijed.v4i2.3001
Copyright (c) 2023 Ivylentine Palittin, Trinovianto George Reinhard Hallatu
This work is licensed under a Creative Commons Attribution 4.0 International License.
This is an Open Access article distributed under the terms of Creative Commons Attribution 4.0 International License, which permits use, sharing, adaptation, distribution and reproduction in any medium or format, as long as you give appropriate credit to the original author(s) and the source, provide a link to the Creative Commons licence, and indicate if changes were made. The images or other third party material in this article are included in the article's Creative Commons licence, unless indicated otherwise in a credit line to the material.