DEVELOPING DIGITAL TEACHING MODULE OF SOCIAL-SCIENCE SUBJECT BASED STEAM METHOD FOR GRADE FOUR ELEMENTARY SCHOOL STUDENTS
Pendidikan Dasar
Keywords:
Module, Science, Social, Digital, STEAM
Abstract
Digital learning modules continue the trend for future literacy modules. The covid 19 pandemic, which has paralyzed practically all sectors of economic and educationally life, has played a role in accelerating to use of digital learning modules. Student are forced to study individually from home using digital platforms. A digital modules is a digital book expected to enable students to study independently, with or without a facilitator. This research aims to develop a digital learning module on STEAM based method science-social subjects for  graders. This research used the EDDIE development model, which consists of five phases; analyze, design, implementation and evaluate. The characteristic of digital learning modules include five parts; components, displys, materials, learning activities and research systems. Content validation used the Gregory formula with the results of the validity test classifiled as valid; material and media feasibility test used LORI formula with test results included in the very feasible category; practically testing used the User Experience Questions (UEQ) quistionaire method with test results included in the excellent or very hight category; and the effectiveness of the product was tested using an assessment in the form of essay with everage student score of 82.4, which is incluede in the 90% completeness category. The development of digital teaching modules aims to improve students' ability to understands STEAM based method on social-science subjects, increase student achievement in practicing module materials in the form of literacy and numeracy through worksheet and projects activities, and improve students's ability in digital technology teaching module independently, which are easy to use anytime-anywhere.
Downloads
Download data is not yet available.
References
Ana, et al. (2021) . Penerapan pembelajaran inovatif STEAM di Sekolah Dasar. Universitas Sultan Ageng Tirtayasa https://doi.org/10.26858/jkp.v5i2.20309
Anita, Y. (2021). Pengembangan buku panduan berbasis STEAM pada pembelajaran tematik tema 3 kelas V Sekolah Dasar. Universitas Sanata Dharma. http://repository.usd.ac.id/id/eprint/40193
Apriliana, M. R., Ridwan, A., Hadinugrahaningsih, T., & Rahmawati, Y. (2018). Pengembangan soft skills peserta didik melalui integrasi pendekatan science, technology, engineering, arts, and mathematics (STEAM) dalam pembelajaran asam basa. JRPK: Jurnal Riset Pendidikan Kimia, 8(2), 42–51. https://doi.org/https://doi.org/10.21009/JRPK.082.05
Anisimova, T. I., Sabirova, F. M., & Shatunova, O. V. (2020). Formation of design and research competencies in future teachers in the framework of STEAM education. International Journal of Emerging Technologies in Learning, 15(2), 204–217. https://doi.org/10.3991/ijet.v15i02.11537.
Arifin, Z. (2020). Transformasi pendidikan di negara maju: Inisiatif filosofis pengembanganmutu pendidikan di Indonesia. Journal of Islamic Studies, 16 (1), 38–56. https://doi.org/10.47466/hikmah.v16i1.166
Coleman, E. G. (2010). Ethnographic approaches to digital media. Annual riview of anthropology, 39(1), 487-505. https://doi.org/10.1146/annurev.anthro.012809.104945
Diawati, L. P., Ardana, I. K., & Agustika, G. N. S. (2019). Pengaruh model children's learning in science berbantuan media audio visual terhadap kompetensi pengetahuan IPA. Mimbar Ilmu, 24(1), 96–104. https://doi.org/10.23887/mi.v24i1.17452
Fauzan, F., & Arifin, F. (2019). The effectiveness of google classroom media on the students' learning outcomes of Madrasah Ibtidaiyah teacher education department. Al Ibtida: Jurnal Pendidikan Guru MI, 6(2), 271-290. https://doi.org/10.24235/al.ibtida.snj.v6i2.5149.
Gettings, M. (2016). Putting it all together: STEAM, PBL, scientific method, and the studio habits of mind. Art Education, 69(4), 10–11. https://doi.org/10.1080/00043125.2016.1176472
Jayantika, I. G. A. T., & Namur, G. (2022). Peran teknologi pembelajaran dalam meningkatkan literasi digital matematika. Indonesian Journal of Educational Development (IJED), 3(2), 284-291. https://doi.org/10.5281/zenodo.7033331
Kristiantarti, R. (2015). Analisis kesiapan guru sekolah dasar dalam mengimplementasikan pembelajaran melalui model dan media pembelajaran generasi Z. Warta LPM, 23(1), 54-62. https://doi.org/10.23887/jpi-undiksha.v3i2.4462
Lestari, I. D., Ratnasari, D., & Usman, U. (2022). Profil kemampuan literasi bahasa, literasi budaya dan kewargaan pada mahasiswa Universitas Sultan Ageng Tirtayasa. Indonesian Journal of Educational Development (IJED), 3(3), 312-319. https://doi.org/10.5281/zenodo.7365078
Logan, R. M., Johnson, C. E., & Worsham, J. W. (2021). Development of an e-learning module to facilitate student learning and outcomes. Teaching and Learning, 5(2), 130–142. https://doi.org/10.1016/j.teln.2020.10.007
Meylani, Y. (2022). The influence of the project based learning (PJBL) learning model on science learning outcomes of class V students at SDN 78 Bengkulu City. Journal of Islamic Education Al-Affan, 2(2), 164-172.
Nurwulan, R. N. (2020). Pengenalan Metode Pembelajaran STEAM kepada para siswa tingkat sekolah dasar kelas 1 sampai 3. Universitas Sampoerna. https://doi.org/10.26618/jkpd.v6i1.4166
Rindarti, E. (2021). Implementasi coaching untuk meningkatkan kemampuan kepala madrasah melaksanakan evaluasi pembelajaran jarak jauh. Indonesian Journal of Educational Development, 2(3), 401-415. https://doi.org/10.5281/zenodo.5680948
Widana, I. W., Sopandi, A. T., Suwardika, I. G. (2021). Development of an authentic assessment model in mathematics learning: A science, technology, engineering, and mathematics (STEM) approach. Indonesian Research Journal in Education, 5(1), 192-209. https://doi.org/10.22437/irje.v5i1.12992
Widana, I. W. & Septiari, L. K. (2021). Kemampuan berpikir kreatif dan hasil belajar matematika siswa menggunakan model pembelajaran Project-Based Learning berbasis pendekatan STEM. Jurnal Elemen, 7(1), 209-220. https://doi.org/10.29408/jel.v7i1.3031
Wirama, T. G. P. (2022). Asesmen literasi sains tema kimia hijau pada siswa kelas XII di SMAN Satu Atap Lembongan. Indonesian Journal of Educational Development (IJED), 3(1), 1-15. https://doi.org/10.5281/zenodo.6557263
Yuanita, Y. (2019). Tingkat keterampilan dasar mengajar calon guru sekolah dasar pada perkuliahan mikroteaching (level of basic for teaching prospective primary school teachers at microteaching lectures). Pedagogical: Jurnal Pendidikan, 8(1), 23-34. https://doi.org/10.21070/pedagogia.v8i1.1952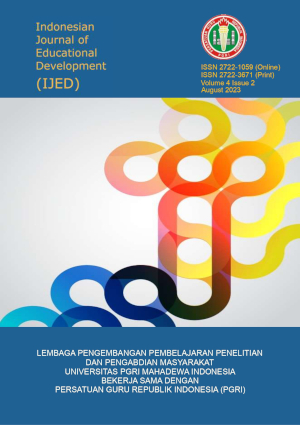 How to Cite
Rusmini, N. N., Lasmawan, I. W. ., & Candiasa, I. M. . (2023). DEVELOPING DIGITAL TEACHING MODULE OF SOCIAL-SCIENCE SUBJECT BASED STEAM METHOD FOR GRADE FOUR ELEMENTARY SCHOOL STUDENTS: Pendidikan Dasar. Indonesian Journal of Educational Development (IJED), 4(2), 150-157. https://doi.org/10.59672/ijed.v4i2.2974
Copyright (c) 2023 Ni Nyoman Rusmini, I Wayan Lasmawan, I Made Candiasa
This work is licensed under a Creative Commons Attribution 4.0 International License.
This is an Open Access article distributed under the terms of Creative Commons Attribution 4.0 International License, which permits use, sharing, adaptation, distribution and reproduction in any medium or format, as long as you give appropriate credit to the original author(s) and the source, provide a link to the Creative Commons licence, and indicate if changes were made. The images or other third party material in this article are included in the article's Creative Commons licence, unless indicated otherwise in a credit line to the material.