Kontribusi organisasi dalam meningkatkan produktivitas guru kabupaten Ciamis
Keywords:
Kontribusi, Organisasi, Produktivitas Guru
Abstract
Penelitian ini diawali dari tuntutan guru harus menyesuaikan dengan kebijakan pemerintah di mana guru harus kreatif dalam melaksanakan pembelajaran yang lebih mengutamakan kepentingan siswa. Kompetensi profesional guru belum nampak tanpa adanya produk yang nyata hasil karya guru terutama media yang berbasis digital hal ini karena kemampuan menggunakan teknologi masih lemah. Tujuan penelitian ini adalah untuk mendekripsikan bagaimana kontribusi organisasi guru dalam meningkatkan produktivitas guru. Subjek penelitian adalah peserta yang mengikuti kegiatan Parade Literasi Merdeka Mengajar (PLMM) yang diselenggarakan Komunitas belajar.id dan PGRI Ciamis yang bekerja sama dengan Dinas Pendidikan Kabupaten Ciamis, sedangkan objek penelitian ini meningkatkan produktivitas guru. Metode Pengumpulan data dilakukan dengan wawancara dan survei. Penelitian ini menggunakan metode deskriptif kualitatif untuk menggambarkan secara detail. Hasil yang diperoleh dari penelitian ini adalah organisasi guru berhasil mendesain sebuah pelatihan yang menghasilkan output yang jelas dibantu 15 trainer. Kriteria keberhasilan yakni produk yang dihasilkan berupa 1623 komik pembelajaran tema Profil Pelajar Pancasila yang dihasilkan dari pelatihan dan 330 komik yang telah direvisi serta berhasil mengumpulkan 380 komik terbaik karya guru yang telah direview dan dinilai dalam lomba dan tercatat pada Rekor Musium Indonesia (MURI).
This begins with the need for instructors to adjust to governmental policies, where they must be innovative in carrying out instruction that puts students interests first. Because their technological proficiency is still lacking, real products generated by teachers, particularly those based on digital media, have not been used to demonstrate their professional competence. The goal of this study is to explain how teacher organizations help to improve teacher productivity. The research subjects were participants who took part in the Merdeka Teaching Literacy Parade (PLMM) organized by the learning community.id and PGRI Ciamis in collaboration with the Ciamis District Education Office, while the object of this research is to increase teacher productivity. Methods Data collection is done by interview and survey. To describe in depth, this study employs a qualitative descriptive method. The findings of this study show that the teacher organization was successful in creating a training that resulted in distinct outputs with the help of 15 trainers. The criteria for success are the resulting product in the form of 1623 learning comics with the Pancasila Student Profile theme resulting from the training and 330 comics that have been revised and managed to collect 380 of the best comics by teachers that have been reviewed and assessed in competitions and recorded in the Indonesian Museum Record (MURI).
Downloads
Download data is not yet available.
References
Hadi, R. (2021). Pengaruh lingkungan kerja dan kompetensi guru terhadap kinerja guru ips SMP Negeri kabupaten Klaten. Indonesian Journal of Educational Development, 2(3), 501-511. https://doi.org/10.5281/zenodo.5681560
Gustina, E., & Anisah, A. (2020). Analisis profesionalisme guru di Smk Negeri 1 Padang. Jurnal Bahana Manajemen Pendidikan, 9(1), 14. https://doi.org/10.24036/bmp.v9i1.108452
Isrokatun, I., Yulianti, U., & Nurfitriyana, Y. (2021). Analisis profesionalisme guru dalam pelaksanaan pembelajaran daring di masa pandemi covid-19. Jurnal Basicedu, 6(1), 454–462. https://doi.org/10.31004/basicedu.v6i1.1961
Jajat Sudrajat. (2020). Kompetensi guru di masa pandemi covid-19. Jurnal Riset Ekonomi Dan Bisnis, 13(1), 100–110. http://journals.usm.ac.id/index.php/jreb
Novariana, M. (2021). Interaksi edukatif guru kunjung sebagai strategi alternatif meningkatkan motivasi belajar dalam pembelajaran masa pandemi COVID-19. Indonesian Journal of Educational Development, 1(4), 702-715. https://doi.org/10.5281/zenodo.4562072
Restu Trinadi Asih, N. P., Fitriani Asni, M., & Widana, I. W. (2022). Profil guru di era society 5.0. Widyadari, 23(1). https://doi.org/10.5281/zenodo.6390955
Saleh, M. (2020). Merdeka belajar di tengah pandemi covid-19. prosiding seminar Nasional Hardiknas, 1(1), 51–56.
Septina, R., & Akbariansyah, A. (2019). Meningkatkan profesionalisme guru dalam menghadapi tantangan global di era revolusi industri 4.0. In Prosiding Seminar Nasional Program Pascasarjana Universitas Pgri Palembang 12(01) 713-724. https://jurnal.univpgripalembang.ac.id/index.php/Prosidingpps/article/download/2618/2426
Smaragdina, A. A., Nidhom, A. M., Soraya, D. U., & Fauzi, R. (2020). Pelatihan pemanfaatan dan pengembangan bahan ajar digital berbasis multimedia interaktif untuk menghadapi era revolusi industri 4.0. Jurnal KARINOV, 3(1), 53-60. http://journal2.um.ac.id/index.php/jki/article/download/11995/5112
Sukitman, Trizid, A. (2020). Peran guru pada masa pandemi covid-19. Prosiding Diskusi Daring Tematik Nasional, September, 01(6) 91–95. http://researchreport.umm.ac.id/index.php/psnpb/article/viewFile/3655/3620
Sufiyanto, M. I., Khairunisa, K., & Roviandri, R. (2022). Keberagaman produktivitas guru sekolah dasar di masa pandemi covid-19 pada SDN Lebbek II. Sustainable Jurnal Kajian Mutu Pendidikan, 5(1), 125-132. https://jurnal.lp2msasbabel.ac.id/index.php/sus/article/download/2262/965
Surat, I. M., Sukendra, I. K., Widana, I. W., Sumandya, I. W. (2021). PKM. Pelatihan penelitian tindakan kelas (PTK) bagi guru Sekolah Taman Rama Denpasar. Jurnal PKM. Widya Mahadi, 2(1), 84 – 94. https://doi.org/10.5281/zenodo.5759231
Widana, I. W. & Muliani, L. P. (2020). Uji persyaratan analisis. Klik Media.
Widana, I. W. (2020). The effect of digital literacy on the ability of teachers to develop HOTS-based assessment. Journal of Physics: Conference Series 1503 (2020) 012-045. https://doi.org/10.1088/1742-6596/1503/1/012045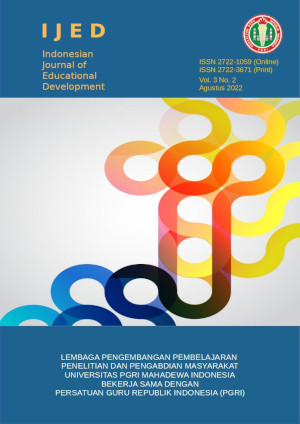 How to Cite
Mulyaningsih, E. (2022). Kontribusi organisasi dalam meningkatkan produktivitas guru kabupaten Ciamis. Indonesian Journal of Educational Development (IJED), 3(2), 220-228. https://doi.org/10.5281/zenodo.7032126
Copyright (c) 2022 Ely Mulyaningsih
This work is licensed under a Creative Commons Attribution 4.0 International License.
This is an Open Access article distributed under the terms of Creative Commons Attribution 4.0 International License, which permits use, sharing, adaptation, distribution and reproduction in any medium or format, as long as you give appropriate credit to the original author(s) and the source, provide a link to the Creative Commons licence, and indicate if changes were made. The images or other third party material in this article are included in the article's Creative Commons licence, unless indicated otherwise in a credit line to the material.