GERAKAN LITERASI DIGITAL PADA MASA PANDEMI COVID-19
Keywords:
Literasi, Digital, Covid-19
Abstract
Pada masa pandemi covid-19, setiap individu perlu menguasai bahwa literasi digital merupakan hal penting yang dibutuhkan untuk dapat berpartisipasi di dunia modern dan mengantisipasi penyebaran informasi negartif pada masa pandemi covid-19. Literasi digital akan menciptakan tatanan masyarakat dengan pola pikir dan pandangan yang kritis-kreatif. Tulisan ini menawarkan konsep gerakan literasi digital yang bisa dilaksanakan pada masa pandemi covid-19. Gerakan literasi digital yang dapat dilakukan pada masa pandemi covid-19 adalah gerakan literasi digital keluarga dan gerakan literasi digital masyarakat. Gerakan literasi tersebut bertujuan untuk meningkatkan kemampuan berpikir kritis, kreatif, dan positif dalam menggunakan media digital dalam kehidupan sehari-hari. Tulisan ini juga menawarkan konsep antisipasi berita hoaks pada masa pandemi covid-19.
During the covid-19 pandemic, each individual should know that digital literacy is an important thing to participate in this modern era and to anticipate the spread of negative information. Digital literacy will create critical-creative mind-set and opinion for the society. This article offers the concept of digital literacy that can be carried out during covid-19 pandemic. The digital literacy action that can be done during covid-19 pandemic is family digital literacy and society digital literacy. Those actions aim to improve critical thinking, being creative, and using digital media positively in daily life. This article also offers the concepts to prevent hoax news during covid-19 pandemic.
Downloads
Download data is not yet available.
References
Bawden, D. (2001). "Information and Digital Literacies: A Review of Concepts"in Journal of Documentation, 57(2), 218-259.
Bhatt, I., (2012). Digital literacy practices and their layered multiplicity. Educational Media International, 49 (4), 289-301.
Goodfellow, R. (2011). Literacy, literacies and the digital in higher education. Teaching in Higher Education, 16 (1), 131-144.
Kementerian Pendidikan dan Kebudayaan. (2017). Materi pendukung literasi digital. Jakarta: Kemdikbud.
Mardiana, Riana. (2017). Literasi digital bagi generasi digital natives. https://www.researchgate.net/profile/Riana_Mardina/publication/326972240_Literasi_Digital_bagi_Generasi_Digital_Natives/links/5b6e6581299bf14c6d98ddab/Literasi-Digital-bagi-Generasi-Digital-Natives.pdf (Unduh Tanggal 3 Juni 2020).
Martin, A. (2006). Literacies for the digital age: preview of part 1. In Martin, A., & Madigan, D., (Ed.). Digital literacies learning. (h. 3-25). London: Facet Publishing.
Meyers, E.M., Ingrid, E., & Ruth, V.S. (2013). Digital literacy and informal learning environments: an introduction. Learning, Media and Technology, 38 (4), 355-367.
Nani Pratiwi dan Nola Pritanova. (2017). Pengaruh literasi digital terhadap psikologis anak dan remaja. file:///C:/Users/Username/Downloads/250-653-1-PB.pdf (Unduh Tanggal 3 Juni 2020).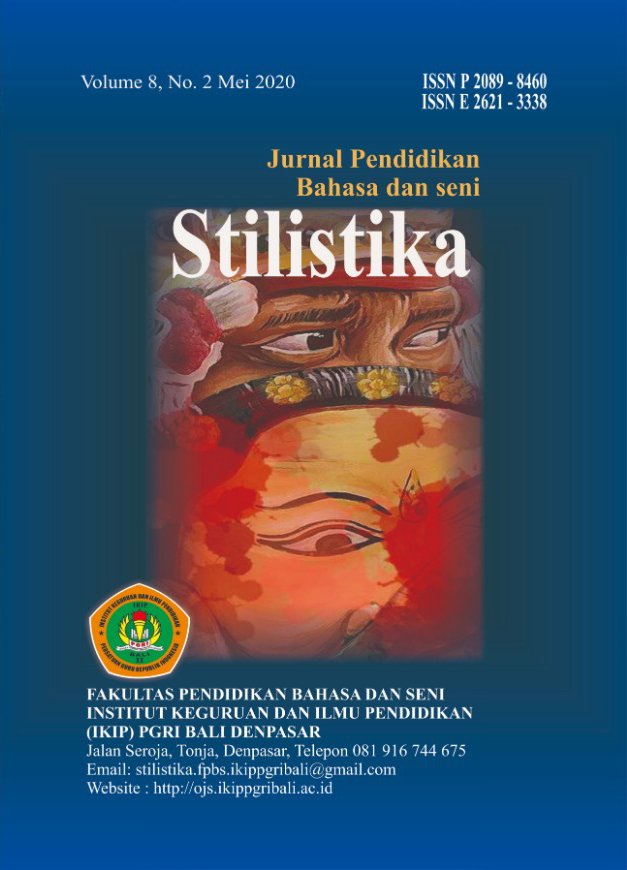 How to Cite
I Putu Gede Sutrisna. (2019). GERAKAN LITERASI DIGITAL PADA MASA PANDEMI COVID-19. Stilistika : Jurnal Pendidikan Bahasa Dan Seni, 8(2), 269-283. https://doi.org/10.59672/stilistika.v8i2.773
Copyright (c) 2020 Stilistika : Jurnal Pendidikan Bahasa dan Seni
This work is licensed under a Creative Commons Attribution-NonCommercial-ShareAlike 4.0 International License.
Hak cipta mencakup hak eksklusif untuk mereproduksi dan mengirimkan artikel ini dalam semua bentuk dan media, termasuk mencetak ulang, memotret, mikrofilm dan reproduksi serupa lainnya, serta terjemahannya. Reproduksi dari bagian manapun dari jurnal ini, penyimpanannya di database dan transmisinya dengan bentuk atau media apa pun, seperti salinan elektronik, elektrostatik dan mekanis, fotokopi, rekaman, media magnetik, dan lain-lain, akan diizinkan hanya dengan izin tertulis dari penerbit jurnal.