POLYSEMY IN SUMBAWANESE
Keywords:
polysemy, parts of speech, Sumbawanese
Abstract
Abstract
This research was conducted due to the lack of knowledge of  people, especially teenagers regarding Sumbawa language. In addition, this research was conducted because there has not been much research on the Sumbawa language in the semantic field. This research aims to identify the types of polysemy in Sumbawa language and identify the parts of speech of each meaning of the words included in the polysemy. This study applies a qualitative descriptive approach. The data collection techniques are documentation (Sumbawa Indonesia Dictionary), observation, and semi-structure interviews. The results indicate that there are two types of polysemy in Sumbawa language, namely regular polysemy and irregular polysemy. There are four parts of speech based on the meaning of each polysemy word, namely verb, noun, adjective, and preposition. This research has added a useful reference for Sumbawanese linguistics. However, more studies are needed in the future to strengthen the current findings.
POLISEMI DALAM BAHASA SUMBAWA
Abstrak
Penelitian ini dilakukan karena kurangnya pengetahuan masyarakat khususnya remaja tentang bahasa Sumbawa. Selain itu, penelitian ini dilakukan karena belum banyak penelitian tentang bahasa Sumbawa dalam bidang semantik. Penelitian ini bertujuan untuk mengidentifikasi jenis-jenis polisemi dalam bahasa Sumbawa dan mengidentifikasi bagian-bagian tutur dari setiap makna kata-kata yang termasuk dalam polisemi. Penelitian ini menggunakan pendekatan deskriptif kualitatif. Teknik pengumpulan data adalah dokumentasi (Kamus Sumbawa Indonesia), observasi, dan wawancara semi terstruktur. Hasil penelitian ini menunjukkan bahwa ada dua jenis polisemi dalam bahasa Sumbawa, yaitu polisemi beraturan dan polisemi tidak beraturan. Ada empat kelas kata berdasarkan arti dari setiap kata polisemi, seperti verba, nomina, adjektiva, dan preposisi. Penelitian ini telah menambah referensi yang berguna untuk linguistik Sumbawa. Namun, studi lebih lanjut diperlukan di masa depan untuk memperkuat atau memperjelas temuan saat ini.
Downloads
Download data is not yet available.
References
Anggito, A., & Setiawan, J. (2018). Metodologi Penelitian Kuantitatif. Sukabumi, Jawa Barat: CV Jejak.
Anisah, Z. (2016). Polisemi pada Wacana Humor Indonesia Lawak Klub. AL HIKMAH Jurnal Studi Keislaman, 6(2), 153-167.
Bagha, K. N. (2011). A Short Introduction to Semantics. Journal of Language Teaching and Research, 2(6), 1411-1419.
Hakim, L., Muslim, N., Nurhayati, Hartini, & Yudiastini, N. M. (2018). Kamus Samawa Indonesia. Mataram: Language Office West Nusa Tenggara.
Jazadi, I. (2017). An Introduction to Sumbawanese Language: Adapted and Translated Materials. NTB, Sumbawa.
Kasman. (2013, July - December). Reviewing Samawa-Indonesia Dictionary. Mabasan, 7(2), 59-66.
Lopez, V., Whitehead, D., & Elliott, D. (2007). Sampling data and data collection in qualitative research. In Z. Schneider, & D. Whitehead, Nursing & Midwifery Research: Methods and Appraisal for Evidence-Based Practice (4th ed., pp. 123-140). Elsevier - Mosby.
Robins, R. H., & Crystal, &. D. (2020, October 29). Language. Retrieved December 15, 2020, from Britannica: https://www.britannica.com/topic/language
Santia, I. (2017). Faktor Penyebab Hilangnya 139 Bahasa Daerah di Indonesia. Kompasiana.
Sarmita, & Hanafi, F. (2017). Polisemi dalam Bahasa Bajo. Jurnal Bastra, 1(4), 3.
Sarnia. (2015). Polisemi dalam Bahasa Muna. Jurnal Humanika, 3(15), 1-16.
Siyoto, S., & Sodik, M. A. (2015). Dasar Metode Penelitian. Indoneisa, Yoyakarta: Literasi Media.
Wijaya, A. H. (2016, January). An Analysis of Polysemy in Advertisement of the Jakarta Post Newspaper. Literary Cricism Journal, 3(1), 33-39.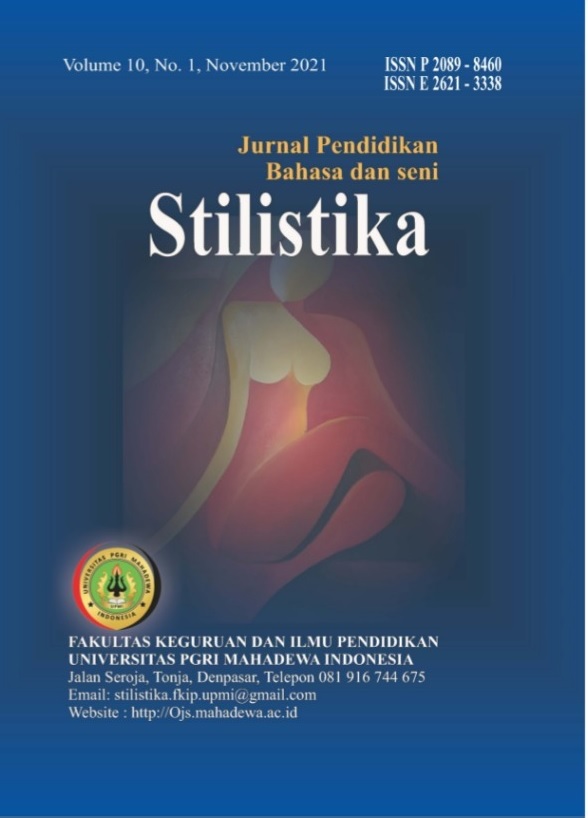 How to Cite
Pratiwi, D., & Jazadi, I. (2021). POLYSEMY IN SUMBAWANESE. Stilistika : Jurnal Pendidikan Bahasa Dan Seni, 10(1), 30-45. https://doi.org/10.5281/zenodo.5732926
Copyright (c) 2021 Stilistika : Jurnal Pendidikan Bahasa dan Seni
This work is licensed under a Creative Commons Attribution-NonCommercial-ShareAlike 4.0 International License.
Hak cipta mencakup hak eksklusif untuk mereproduksi dan mengirimkan artikel ini dalam semua bentuk dan media, termasuk mencetak ulang, memotret, mikrofilm dan reproduksi serupa lainnya, serta terjemahannya. Reproduksi dari bagian manapun dari jurnal ini, penyimpanannya di database dan transmisinya dengan bentuk atau media apa pun, seperti salinan elektronik, elektrostatik dan mekanis, fotokopi, rekaman, media magnetik, dan lain-lain, akan diizinkan hanya dengan izin tertulis dari penerbit jurnal.