Pengaruh Stretching PNF terhadap Fleksibilitas
Keywords:
stretching, PNF, kelenturan, jogging
Abstract
Penelitian ini bertujuan untuk megetahui peregangan PNF terhadap tingkat flesibilitas. Tempat dilaksanakannya penelitian ini di SMAN 8 Pontianak. Metode penelitian yang di gunakan pada penelitian ini adalah eksperimen dengan menggunakan One Group Pretest-Postest Design. Sampel yang digunakan pada penelitian ini menggunakan Mahasiswa PKO Universitas Tanjungpura semester 1 sebanyak 8 orang. Penelitian ini dilakukan dengan mengukur sit and reach sebelum dan setelah jogging 2000 m, kemudian diberikan treatment peregangan PNF, setelah diberikan treatment maka dilakukan pengukuran sit and reach kembali. Teknik analisis data mengunakan deskriptif dan Uji t. Hasil penelitian menunjukkan adanya perbedaan sebelum dan sesudah melakukan peregangan PNF, rerata orang coba sebelum melakukan peregangan PNF sebesar 11,98 cm dan rerata setelah sebesar 14,70 cm. Sehinga dapat disimpulkan peregangan PNF dapat meningkatkan fleksibilitas.
Downloads
Download data is not yet available.
References
Adiatmika, I. P. G., & Santika, I. G. P. N. A. (2016). Bahan Ajar Tes dan Pengukuran. Denpasar : Udayana University Press
Alfarisi, S. (2018). Pengaruh latihan PNF (Propioceptive Neuromuschular Facilitation) dan thai massage terhadap tingkat fleksibilitas togok atlet UKM karate inkai UNY. In Universitas Negeri Yogyakarta
Apian, T. (2019). Pengaruh Proprioseptive Neuromuscular Fasilitation Stretching Dan Ballistic Stretching Terhadap Fleksibilitas Otot Tungkai Artikel Penelitian Oleh : Pengaruh Proprioseptive Neuromuscular Fasilitation Stretching Dan Ballistic Stretching. Universitas Tanjung Pura
Arul Pragassame S, Mohandas Kurup VK, & Soundarya N. (2019). A comparative study on the effectiveness of PNF stretching versus static stretching on Pain and Hamstring flexibility in osteoarthritis knee patients. International Journal of Research in Pharmaceutical Sciences, 10(3). https://doi.org/10.26452/ijrps.v10i3.1312
Bonnar, B. P., Deivert, R. G., & Gould, T. E. (2004). The relationship between isometric contraction durations during hold-relax stretching and improvement of hamstring flexibility. Journal of Sports Medicine and Physical Fitness, 44(3)
Borges, M. O., Medeiros, D. M., Minotto, B. B., & Lima, C. S. (2018). Comparison between static stretching and proprioceptive neuromuscular facilitation on hamstring flexibility: systematic review and meta-analysis. In European Journal of Physiotherapy (Vol. 20, Issue 1). https://doi.org/10.1080/21679169.2017.1347708
Derbachew, A. (2019). Static, Ballistic and PNF stretching exercise effects on flexibility among Arba Minch football players. IOSR Journal Of Humanities And Social Science (IOSR-JHSS, 24(3)
Devi, N. P. A. (2019). Efektifitas Proprioceptive Neuromuscular Facilitation (Pnf) Contract Relax Terhadap Fleksibilitas Otot Hamstring. Universitas Muhammadiyah Surakarta, 1(1)
Dewanti, R. A. (2020). Pelatihan Pnf Untuk Meningkatkan Pengetahuan Tentang Pnf Bagi Pelatih Dan Guru Olahraga Di Desa Cibogo Kecamatan Lembang Kabupaten Bandung Barat, Jawa Barat. Prosiding Seminar Nasional Pengabdian Kepada Masyarakat
Julioe, R. (2017). No TitleÉ?______. Ekp, 13(3), 1576–1580
Kaya, F. (2018). Positive Effects of Proprioceptive Neuromuscular Facilitation Stretching on Sports Performance: A Review. Journal of Education and Training Studies, 6(6). https://doi.org/10.11114/jets.v6i6.3113
Konrad, A., Gad, M., & Tilp, M. (2015). Effect of PNF stretching training on the properties of human muscle and tendon structures. Scandinavian Journal of Medicine and Science in Sports, 25(3). https://doi.org/10.1111/sms.12228
Kwak, D. H., & Ryu, Y. U. (2015). Applying proprioceptive neuromuscular facilitation stretching: Optimal contraction intensity to attain the maximum increase in range of motion in young males. Journal of Physical Therapy Science, 27(7). https://doi.org/10.1589/jpts.27.2129
Manabendra Majhi, & Samiran Mondal. (2021). Effect of proprioceptive neuromuscular facilitation stretching on physical fitness: A Critical Analysis. GSC Advanced Research and Reviews, 6(1). https://doi.org/10.30574/gscarr.2021.6.1.0010
Medeiros, D. M., & Martini, T. F. (2018). Chronic effect of different types of stretching on ankle dorsiflexion range of motion: Systematic review and meta-analysis. Foot, 34(September 2017), 28–35. https://doi.org/10.1016/j.foot.2017.09.006
Mekayanti, A., Indrayani, & Dewi, K. (2015). Optimalisasi Kelenturan (Flexibelity), Keseimbangan (Balance), dan Kekuatan (Strength) Tubuh Manusia secara Instan dengan Menggunakan "Secret Method." Jurnal Virgin, 1(1)
Minshull, C., Eston, R., Bailey, A., Rees, D., & Gleeson, N. (2014). The differential effects of PNF versus passive stretch conditioning on neuromuscular performance. European Journal of Sport Science, 14(3). https://doi.org/10.1080/17461391.2013.799716
Opplert, J., & Babault, N. (2018). Acute Effects of Dynamic Stretching on Muscle Flexibility and Performance: An Analysis of the Current Literature. Sports Medicine, 48(2), 299–325. https://doi.org/10.1007/s40279-017-0797-9
Panchal, A., Sabhaya, D., & Maitri, P. (2019). Effect of Pnf Stretching Versus Static Stretching on Calf Muscle Flexibility: a Comparative Experimental Study. International Journal of Physiotherapy and Research, 6(6), 2980–2983. https://doi.org/10.16965/ijpr.2018.197
Rahman, M. H. (2020). Stretching and Flexibility : A Range Of Motion For Games And Sports Md. European Journal of Physical Education and Sport Science, 6(8)
Rahmat, A., Sajad, M., & Hasan, D. (2014). The effect of PNF stretching on the hamstring muscles at the speed sprinters. Medicina Sportiva, X(2)
Santika, I. G. P. N. A. (2017). Pengukuran Komponen Biomotorik Mahasiswa Putra Semester V Kelas A Fakultas Pendidikan Olahraga dan Kesehatan IKIP PGRI Bali Tahun 2017. Jurnal Pendidikan Kesehatan Rekreasi, 3(1), 85-92. Retrieved from https://ojs.mahadewa.ac.id/index.php/jpkr/article/view/221
Sari, K., Sukadarwanto, S., & Susilowati, S. T. (2016). Perbedaan Pengaruh Latihan Peregangan Sas-Balistik Dengan Pnf-Balistik Terhadap Fleksi Bilitas Trunkus Lansia. Jurnal Keterapian Fisik, 1(2). https://doi.org/10.37341/jkf.v1i2.92
Sohail, M. A. A., Tahir, R., Maqbool, A., Hanif, S., & Saeed, O. (2022). Comparing the effectiveness of static stretching and proprioceptive neuromuscular facilitation stretching in treating delayed onset muscle soreness in calf muscles of runners. Anaesthesia, Pain and Intensive Care, 26(1). https://doi.org/10.35975/apic.v26i1.1763
Vos, M. (2021). Randomised observer-blind controlled clinical trial of the effect of static stretching versus static stretching with self- myofascial release on hamstring flexibility. November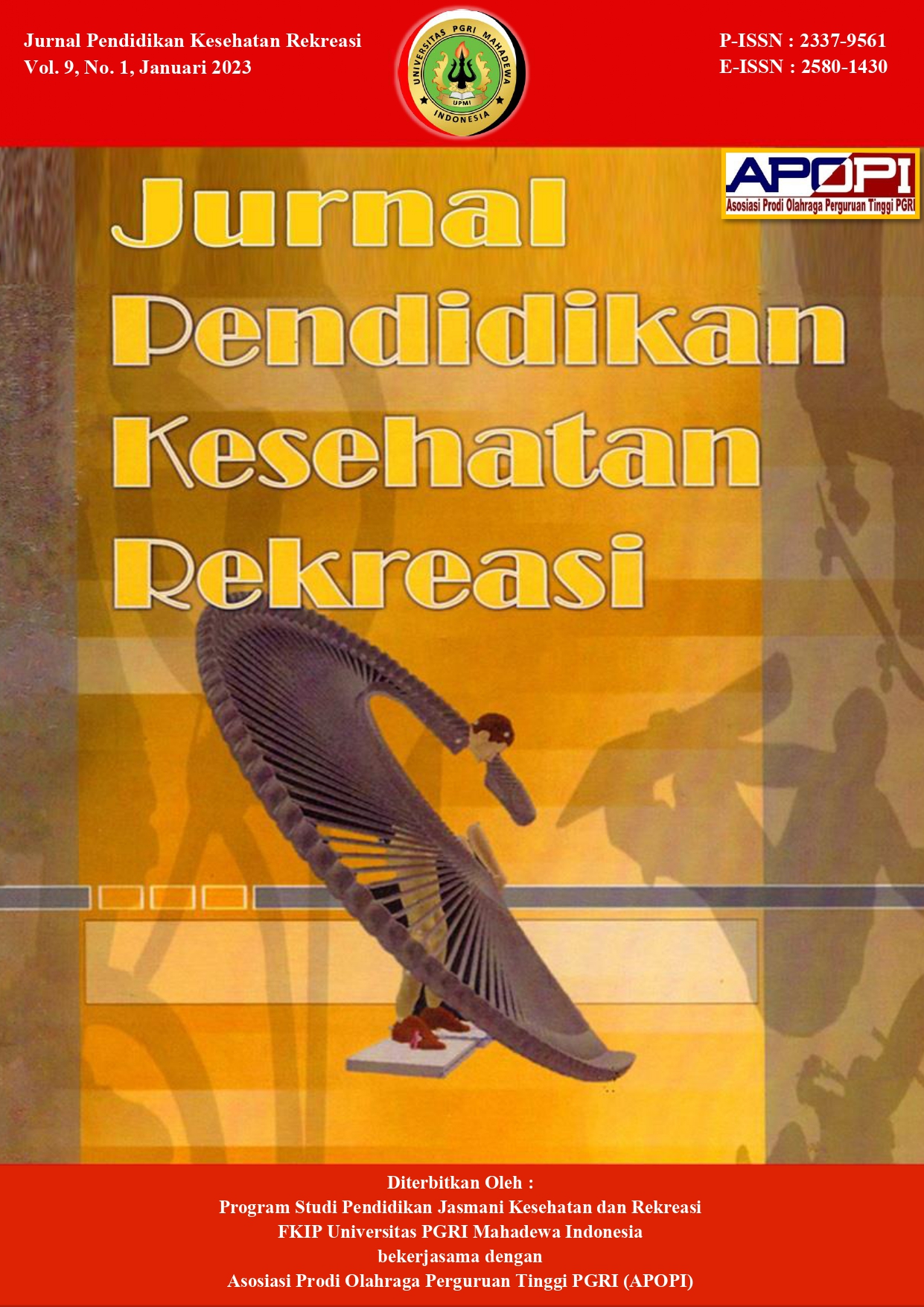 How to Cite
Hariadi, A. S., Samodra, Y. T. J., Yosika, G. F. ., Wati, I. D. P., & Gandasari, M. F. . (2023). Pengaruh Stretching PNF terhadap Fleksibilitas. Jurnal Pendidikan Kesehatan Rekreasi, 9(1), 97-105. https://doi.org/10.5281/zenodo.7578283
Copyright (c) 2023 Ade Surya Hariadi, Y. Touvan Juni Samodra, Ghana Firsta Yosika, Isti Dwi Puspita Wati, Maharani Fatima Gandasari
This work is licensed under a Creative Commons Attribution-NonCommercial-ShareAlike 4.0 International License.
Jurnal Pendidikan Kesehatan Rekreasi is published under the terms of Creative Commons Attribution 4.0 International License / CC BY NC SA 4.0. This license permits others to copy, distribute, modify, and create derivative works for non-commercial purposes only