PEMANFAATAN VIDEO PUPUTAN MARGARANA DALAM PEMBELAJARAN IPS UNTUK MEMPERKUAT PROFIL PELAJAR PANCASILA PADA PESERTA DIDIK DI SD NEGERI 3 TONJA DENPASAR
Keywords:
Video of Puputan Margarana, Social Studies Learning, Profile of Pancasila Students
Abstract
Pancasila is the guideline for the life of the Indonesian Nation, all activities of the daily life of the Indonesian Nation must be in accordance with the values ​​contained in Pancasila. The rapid development of technology and information has had a negative impact on the life of the nation. For this reason, the government issued a Pancasila Student Profile movement as a solution to overcome the negative effects of technological developments. Realizing Pancasila Student Profiles can be applied through social studies learning based on learning videos. Based on the analysis of the situation, community service activities were carried out at SD Negeri 3 Tonja Denpasar which were carried out by lecturers in collaboration with students. The purpose of this activity is to instill and grow noble values ​​according to the Pancasila Student Profile through the use of the Puputan Margarana video. Through this activity it is hoped that students at Tonja 3 Public Elementary School will have intelligent personalities and character according to the profile of Pancasila students. To realize this service activity, a descriptive qualitative study method was used which included showing several Puputan Margarana, discussing and having dialogue about the content of the films shown, and exploring the values ​​contained in the films which were associated with the values ​​of the Pancasila Student Profile. The results of this community service activity show that broadcasting video media about Puputan Margarana can help students more easily understand the values ​​contained in the Puputan Margarana video.
Downloads
Download data is not yet available.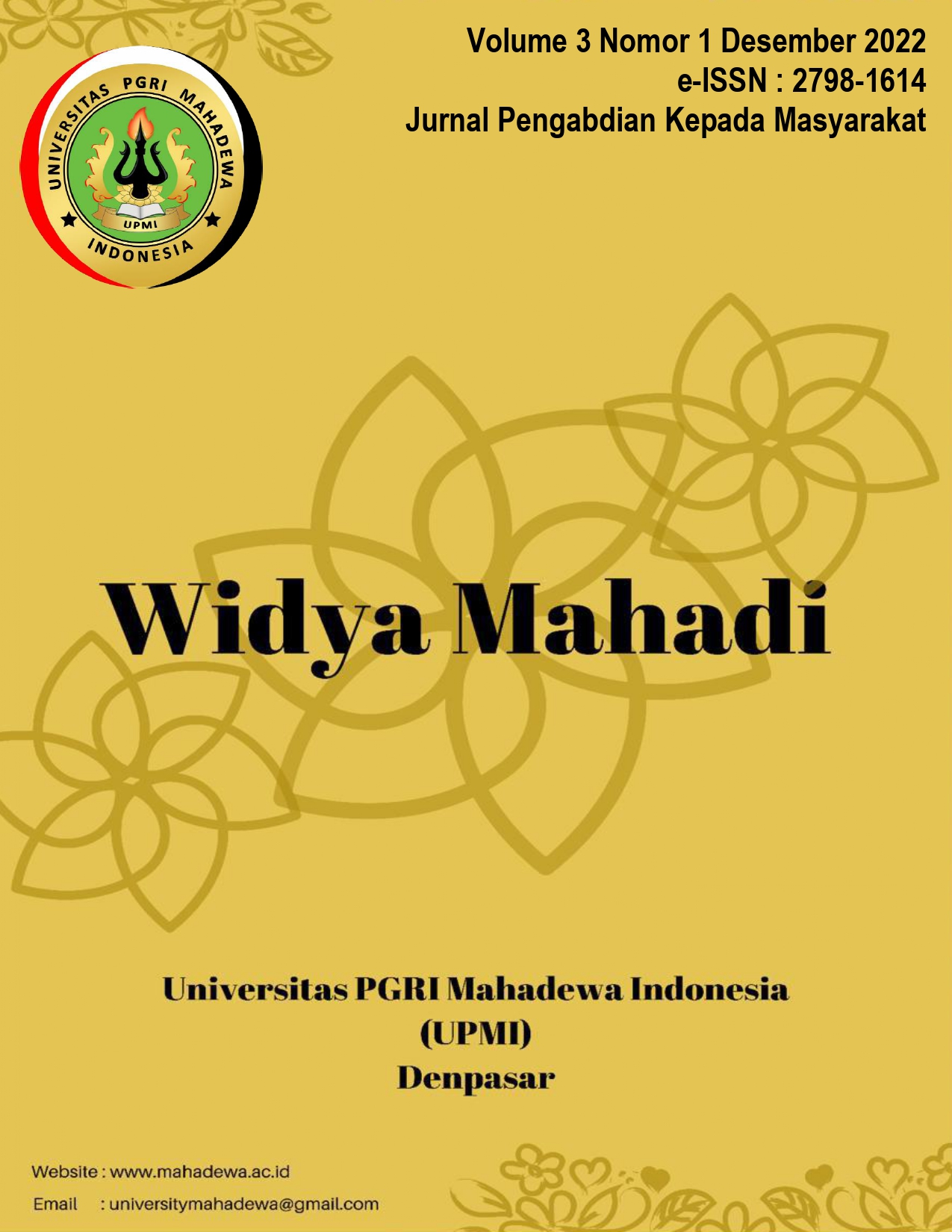 How to Cite
Ni Luh Putu Tejawati, Dewa Made Alit, Desak Made Oka Oka Purnawati, & Ni Luh Wika Kristina. (2022). PEMANFAATAN VIDEO PUPUTAN MARGARANA DALAM PEMBELAJARAN IPS UNTUK MEMPERKUAT PROFIL PELAJAR PANCASILA PADA PESERTA DIDIK DI SD NEGERI 3 TONJA DENPASAR. Jurnal Pengabdian Kepada Masyarakat Widya Mahadi, 3(1), 217 - 225. https://doi.org/10.5281/zenodo.7447713