PKM. SMP DWIJENDRA BUALU DALAM PENGEMBANGAN PROFESIONALISME INOVATIF GURU MELALUI PELATIHAN MEMBUAT ALAT PERAGA PADA PEMBELAJARAN MATEMATIKA
Keywords:
Professionalism, teachers, visual aids, mathematics
Abstract
Teacher professionalism is the ability of teachers to carry out their main duties as educators and teachers including the ability to plan, carry out, and carry out learning evaluations. Teaching aids are all that can be used and can be used to explain learning concepts from abstract or unclear material clearly, so that students can think and feel. The purpose of this service is to develop teacher innovative professionalism through training in making teaching aids in learning mathematics. This service was carried out for training in making teaching aids in mathematics learning which was carried out at Dwijendra Bualu Middle School. The method used is training and mentoring. The steps implemented in this activity are: planning, socialization, and training in making props, Assistance in the practice of using teaching aids, and Evaluation and reflection aimed at improvement and follow-up. Overall, the service activities for developing innovative professionalism of teachers through training in making teaching aids in mathematics learning at SMP Dwijendra Bualu can take place smoothly and well. In the last activity, namely mentoring using visual aids in mathematics lessons. The response of the participants to this activity was very good. The participants were very enthusiastic and enthusiastic in participating in the training activities for making teaching aids. At the end of the session the teacher was able to develop a lesson plan using one of the innovative learning models.
Downloads
Download data is not yet available.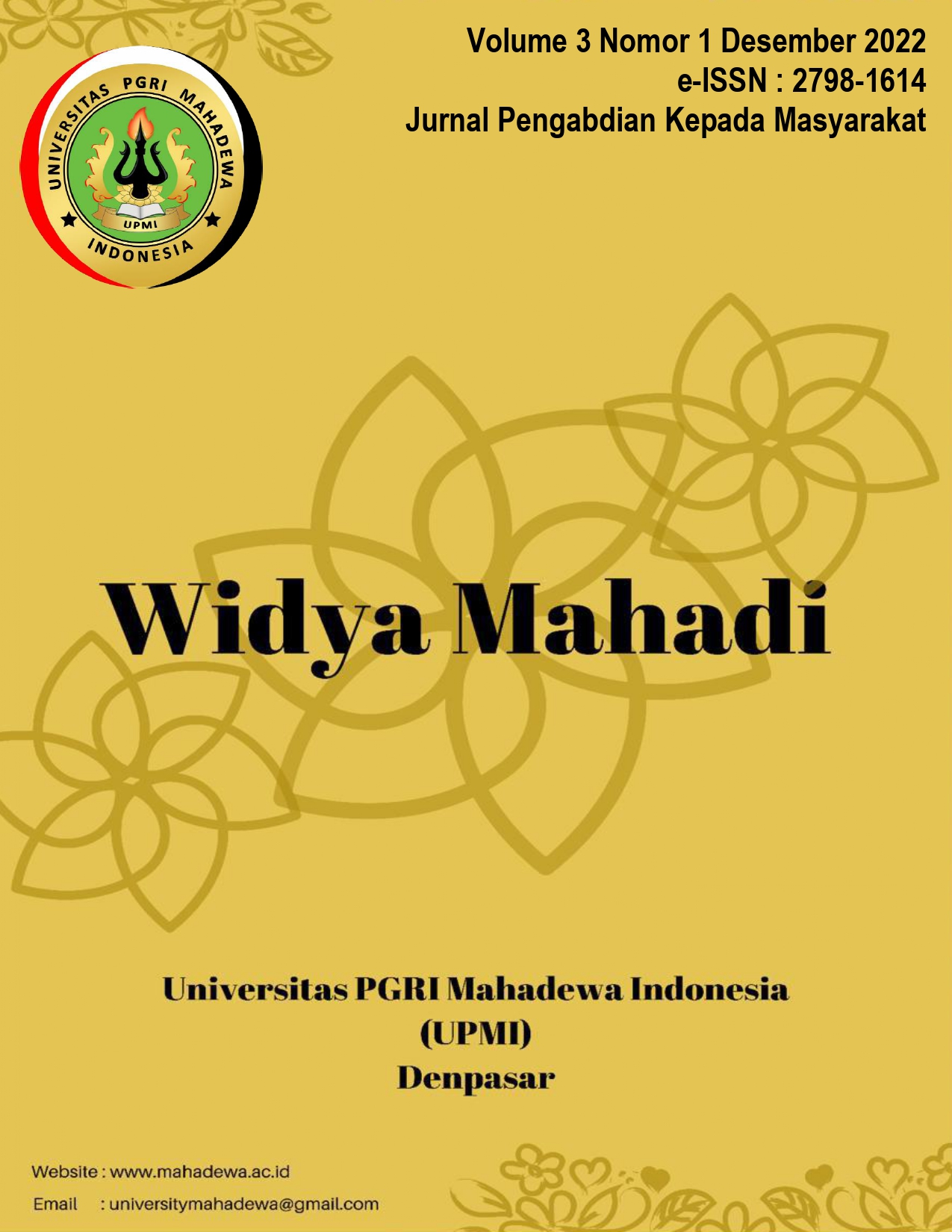 How to Cite
I Wayan Muliana, I Komang Sukendra, & I Wayan Sumandya. (2022). PKM. SMP DWIJENDRA BUALU DALAM PENGEMBANGAN PROFESIONALISME INOVATIF GURU MELALUI PELATIHAN MEMBUAT ALAT PERAGA PADA PEMBELAJARAN MATEMATIKA. Jurnal Pengabdian Kepada Masyarakat Widya Mahadi, 3(1), 206 - 216. Retrieved from https://ojs.mahadewa.ac.id/index.php/widyamahadi/article/view/2492