PENGEMBANGAN POTENSI DIRI DAN PERENCANAAN KARIR SISWA SMK PGRI 3 DENPASAR MELALUI BIMBINGAN KARIR
Keywords:
Career Guidance, PGRI 3 Denpasar Vocational High School
Abstract
The purpose of community service carried out at PGRI 3 Denpasar Vocational High School is to help student recognize and develop their potential and determine their career plans after they graduate from vocational high school. The material presented in this community service activity is about knowing and developing one's own potential, types of higher education and various proffesions and areas of expertise. By knowing the potential that exists in him, it is hoped that students will able to develop a road map for further studies or work plans that are in accordance with their interest and talents. When students already have an overview of their future plans, students will have learning motivation and attitudes that will lead them to achieve their goals. PGRI 3 Denpasar Vocational High School is a vocational school with the vision of preparing a middle-level workforce who is cultured, has noble character, is ready to work and is independent to fill the needs of the world of work in facing the era of globalization.
Downloads
Download data is not yet available.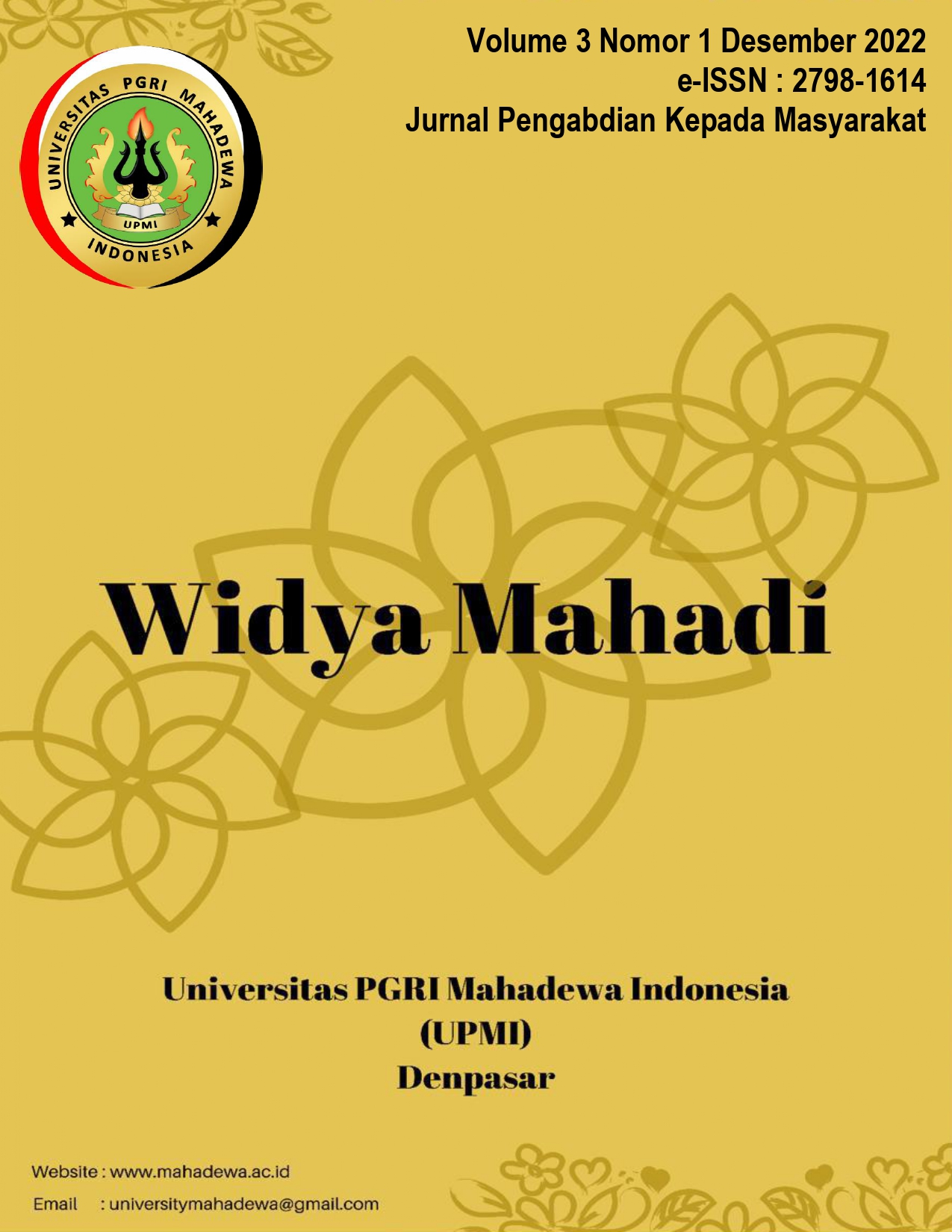 How to Cite
I Made Mahaardhika, Putu Agus Giri Semara Putra, Ni Putu Ayu Agustin Karisma Dewi, & Komang Wirsiasih. (2022). PENGEMBANGAN POTENSI DIRI DAN PERENCANAAN KARIR SISWA SMK PGRI 3 DENPASAR MELALUI BIMBINGAN KARIR. Jurnal Pengabdian Kepada Masyarakat Widya Mahadi, 3(1), 187 - 194. https://doi.org/10.5281/zenodo.7447620