PELATIHAN TARI REJANG PADA ANAK-ANAK DI SMK N 4 DENPASAR TAHUN AJARAN 2022/2023
Keywords:
training, rejang dance, mendak siwi
Abstract
Rejang dance is a traditional dance whose dance movements are very simple and filled with a sense of devotion to the ancestors. This dance is performed by women in following the prayer ceremony by marching, circling and often holding hands. The purpose of this activity is to teach Rejang dance so that children can dance the Rejang dance during the Saraswati Hari Raya piodalan ceremony at SMK N 4 Denpasar. The Rejang Dance functions as a Wali Dance, which is performed in a temple that has something to do with the implementation of Hindu religious ceremonies as the implementation of religious ceremonies and ceremonies. In dance lessons, children are taught once a week. In the training process, the children are taught by dance teachers. This training was carried out using the demonstration method, starting from the pepeson, printer, pekaad movements in the rejang dance together and the rejang mendak siwi dance. The results obtained from this training were the performance of the Rejang Mendak Siwi dance in the piodalan ceremony at Pura Padma SMK N 4 Denpasar, which is every Saraswati day celebration. This training can be said to be a success. Children who attend dance training at schools who learn the Rejang Renteng dance and the Rejang Mendak Siwi dance can perform optimally.
Downloads
Download data is not yet available.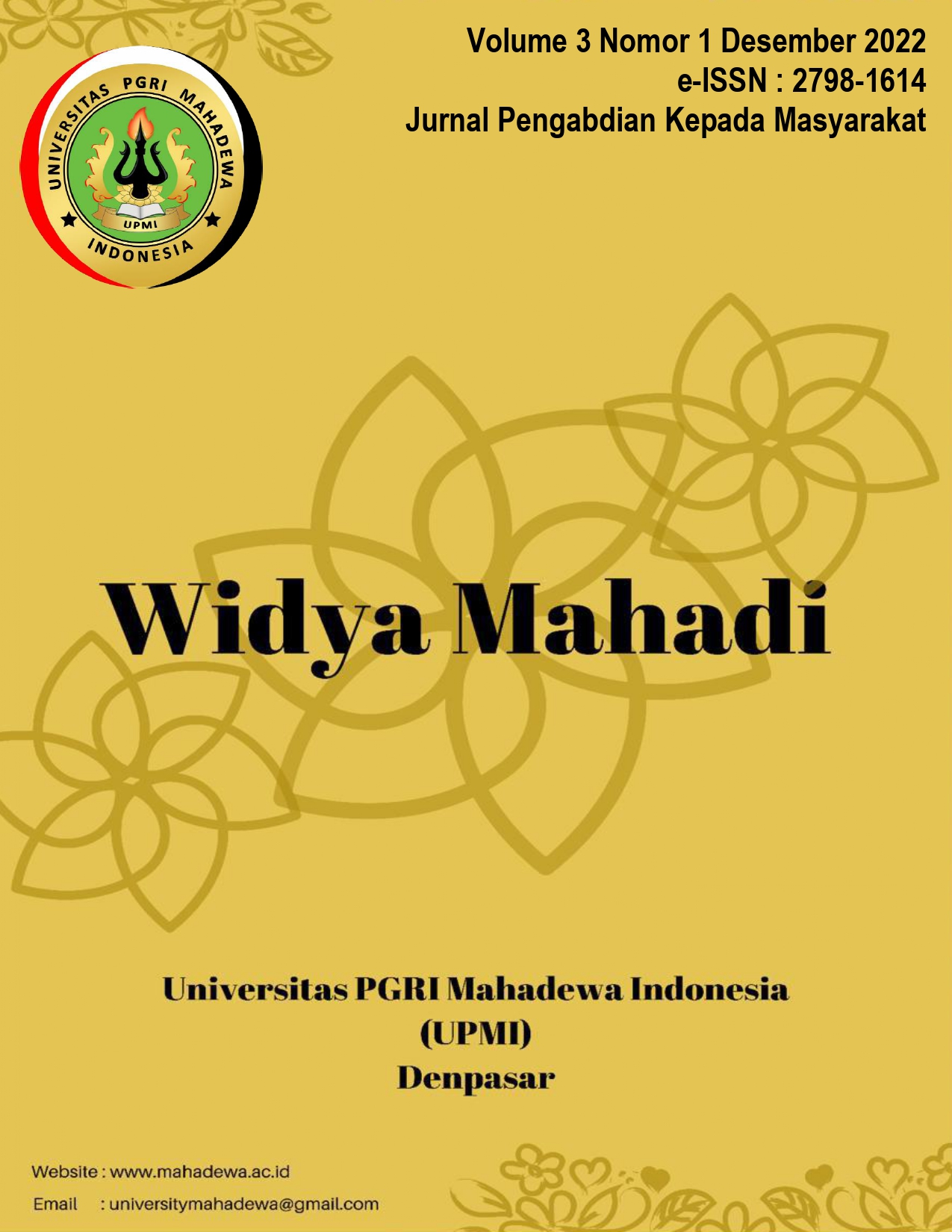 How to Cite
Gusti Ayu Made Puspawati, Ida Ayu Wiswantini, & Ririn Dwijayanti. (2022). PELATIHAN TARI REJANG PADA ANAK-ANAK DI SMK N 4 DENPASAR TAHUN AJARAN 2022/2023. Jurnal Pengabdian Kepada Masyarakat Widya Mahadi, 3(1), 160 - 168. https://doi.org/10.5281/zenodo.7447479