PEMBUATAN INFUSED WATER BUNGA TELANG DAN PEMANFAATAN BAGI KESEHATAN
Keywords:
flower telang, flower infused water eggs, content chemical flower eagle
Abstract
Devotion to Public this conducted with aims to make young people and women banjar bastard village singapore middle knowing benefit flower eagle especially flower infused water eagle as well as knowing method make flower infused water which one is very useful for health. Devotion to Public conducted with method socialization and demonstration method making flower infused water eagle this conducted for 1 day only located in onehouse inhabitant banjar bastard singapore middle, Sukawati, Gianyar, Bali. Pre test results show part big participant have good knowledge and very good related flower Telang, making flower infused water eagle as well as use of flower infused water eagle for health. Exposure material in the form of socialization in the form of power point as well as content explanationinside it is flower egg, content proximate, minerals and compounds bioactive from flower eggs, benefits flower telang, definition of infused water and method flower infused water eagle. The process of making flower infused water telang, there are 2 representatives from participants who make flower infused water telang directed by the representative student. Post test results show that all participant devotion get very broad knowledge/insight about making as well as use of flower infused water eagle after follow devotion to Public this.
Downloads
Download data is not yet available.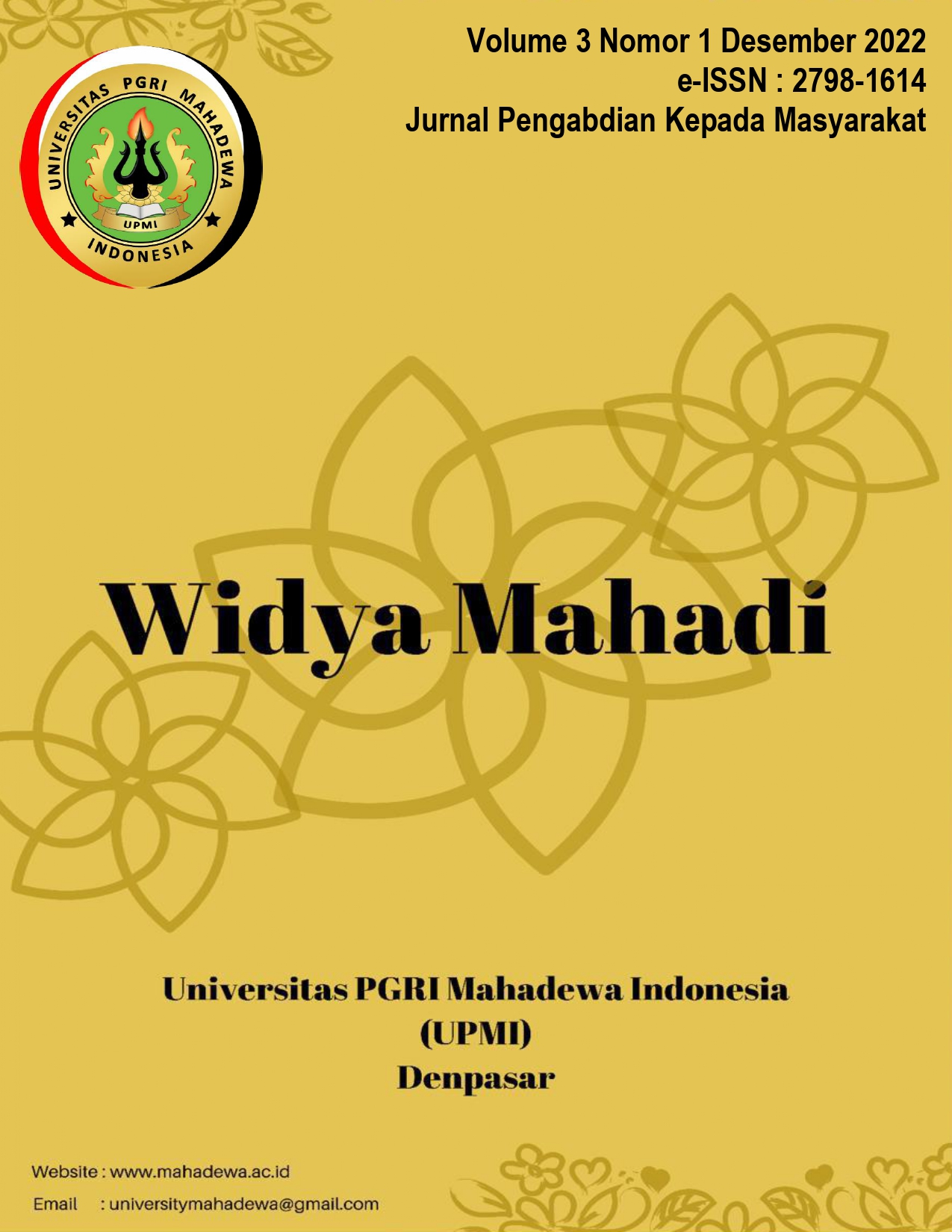 How to Cite
PEMBUATAN INFUSED WATER BUNGA TELANG DAN PEMANFAATAN BAGI KESEHATAN. (2022). Jurnal Pengabdian Kepada Masyarakat Widya Mahadi, 3(1), 138 - 149. https://doi.org/10.5281/zenodo.7447364