EFEKTIVITAS PENERAPAN MEDIA PEMBELAJARAN DIGITAL ASSEMBLR EDU PADA MATA PELAJARAN MATEMATIKA DI SMK NEGERI 4 DENPASAR
Keywords:
Media, Learning, Digital, Assemblr Edu
Abstract
ABSTRACT
Media is one component of the learning system that cannot be ignored in its development. According to Hamalik (1989), the use of media in the classroom can increase the desire, interest, motivation, and stimulation of learning activities, as well as have a psychological impact on students. This government regulation mandates that teachers and students adapt to the WFH learning method which is familiar to most Indonesian teachers and students. This is where the weakness of this learning method is seen, one of which is the most basic aspect of learning. process, namely the ability of students to understand the content offered by teachers through online media in the WFH learning process used during this outbreak. This research was conducted at SMK Negeri 4 Denpasar from January to March 2022. This research is a quantitative descriptive and developmental study that aims to the effectiveness of the application of digital assemblr edu learning media in mathematics subjects at SMK Negeri 4 Denpasar. This development model is divided into five stages, namely analysis, design, development, implementation, and evaluation. The results of the research Overall, if the category of agreeing statements has reached 73.2%, it means that the overall effectiveness of implementing the application has been running properly as an application of learning media. Learning through the use of the Assemblr Edu learning media application can improve student learning outcomes. Students will be more enthusiastic about participating in this learning because they are bound by the use of technology they are already familiar with, such as Android, WhatsApp, and Facebook.
Downloads
Download data is not yet available.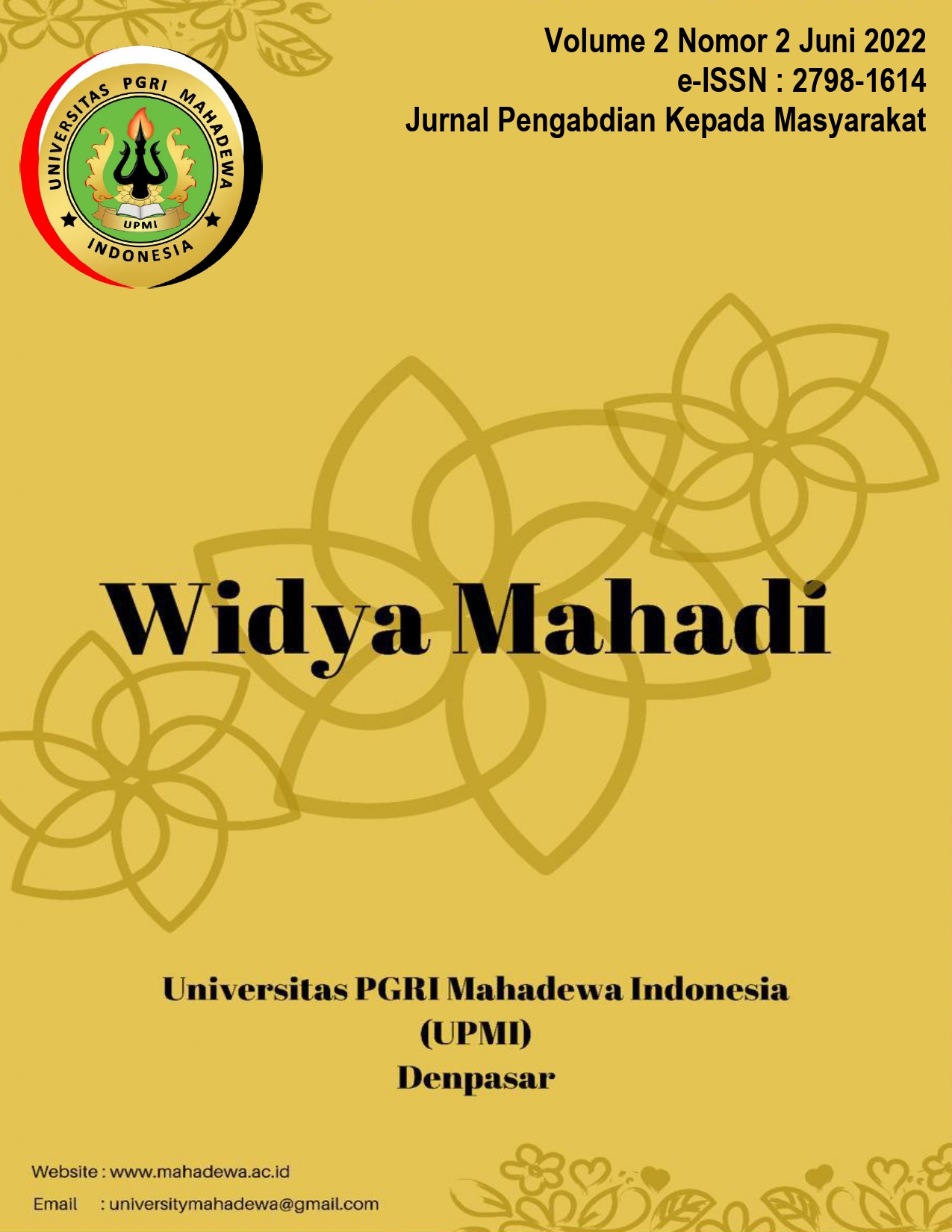 How to Cite
Putu Rissa Putri Intari Dewi, Ni Made Winda Wijayanti, & I Dewa Putu Juwana. (2022). EFEKTIVITAS PENERAPAN MEDIA PEMBELAJARAN DIGITAL ASSEMBLR EDU PADA MATA PELAJARAN MATEMATIKA DI SMK NEGERI 4 DENPASAR. Jurnal Pengabdian Kepada Masyarakat Widya Mahadi, 2(2), 98 - 109. https://doi.org/10.59672/widyamahadi.v2i2.1961