PENGEMBANGAN PROFESIONALISME GURU MELALUI MODEL PEMBELAJARAN INOVATIF DI SD NEGERI 3 UBUD PADA PENGABDIAN MASYARAKAT PROGRAM STUDI PENDIDIKAN EKONOMI FKIP UNIVERSITAS PGRI MAHADEWA INDONESIA
Keywords:
: innovative learning model, teacher professionalism
Abstract
Professional educators have the main task of educating, teaching, guiding, directing, training, assessing, and evaluating students in early childhood education through formal education, basic education, secondary education. Teachers are the spearhead of education, as educators, teachers must have certain competencies in order to be able to educate their students well. In learning efforts towards the formation of students' characters who are creative, interactive, innovative, and inspiring in the learning process in the classroom, it is necessary to implement innovative learning models. This service activity aims to develop teacher professionalism through innovative learning models and help improve student learning. This community service is a mentoring activity carried out by students, where lecturers in this case provide workshops on teacher professionalism development through innovative learning. This activity is carried out for 1 month starting from March 13 to April 16, 2022. This service activity is a collaboration carried out by lecturers and students through community service assistance by providing workshops on teacher professionalism development through innovative learning. has been running well, efficient, effective and maximal.
Downloads
Download data is not yet available.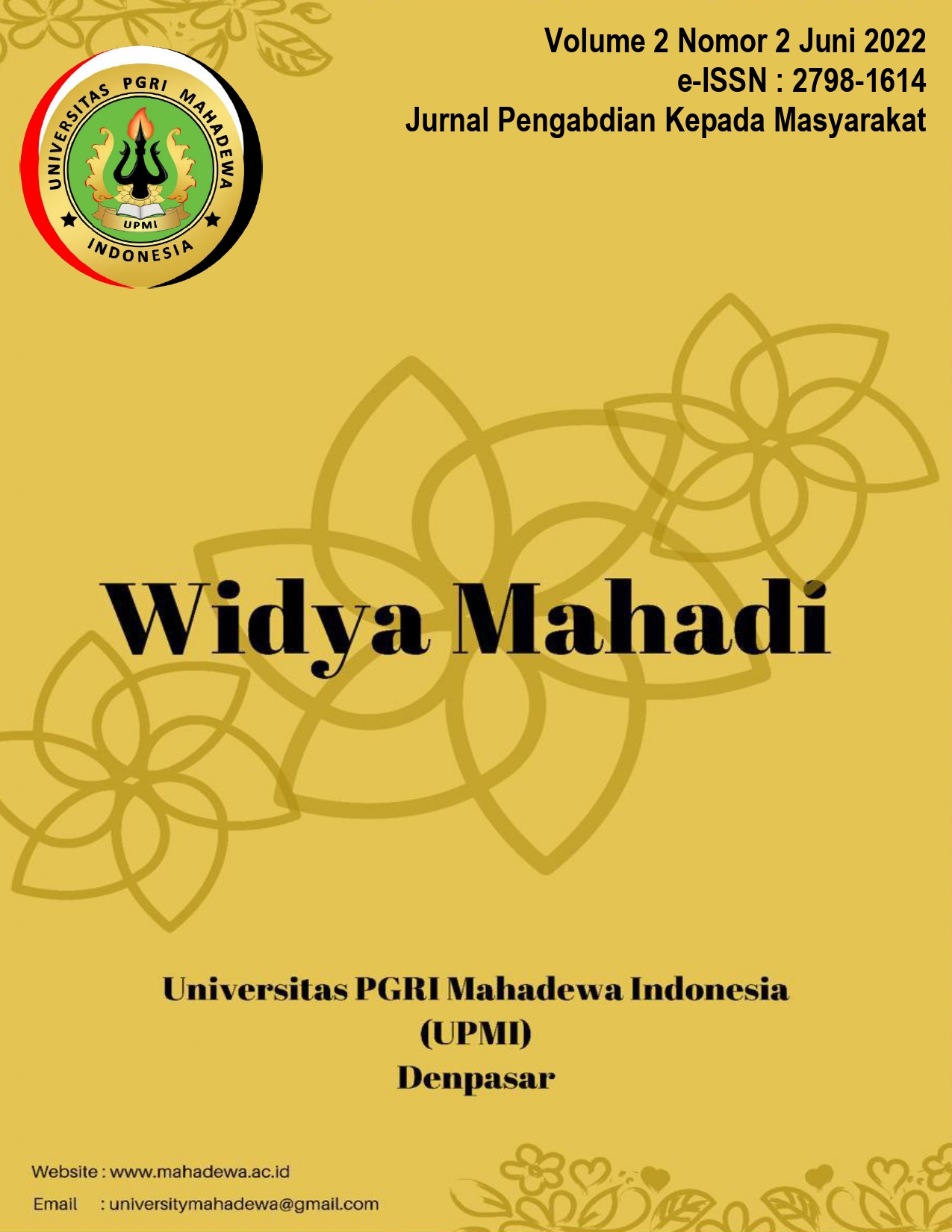 How to Cite
Putu Siti Firmani, I Ketut Westra, & I Dewa Gede Kresna Wirawan. (2022). PENGEMBANGAN PROFESIONALISME GURU MELALUI MODEL PEMBELAJARAN INOVATIF DI SD NEGERI 3 UBUD PADA PENGABDIAN MASYARAKAT PROGRAM STUDI PENDIDIKAN EKONOMI FKIP UNIVERSITAS PGRI MAHADEWA INDONESIA. Jurnal Pengabdian Kepada Masyarakat Widya Mahadi, 2(2), 61 - 69. https://doi.org/10.59672/widyamahadi.v2i2.1957