PKM. PENINGKATAN KOMPETENSI GURU MELALUI PEDAMPINGAN PENULISAN ARTIKEL ILMIAH PENELITIAN TINDAKAN KELAS
Keywords:
teacher competence, mentoring, CAR
Abstract
This activity aims to provide training and assistance to teachers of SD Negeri 3 Ubud in classroom action research and writing scientific articles. The output to be achieved after teachers participate in CAR training is that they can prepare proposals, implement CAR in class, compile CAR reports and make scientific articles for publication. The training method is carried out by lectures and demonstrations of questions and answers, exercises, and practices. The training material is presented with more practice than theory, with a ratio of 25% theory to 75% practice. The training venue was held in the class of SD Negeri 3 Ubud. During the implementation of mentoring, evaluation was carried out by post-test. The output of this service that meets the target is 80% of the teachers attend the training and pass the cognitive skills based on the results of the post-CAR training. Meanwhile, there are 30% of teachers who are able to make proposals, and 10 of them are ready to be written in scientific articles to be published in journals or seminars.
Downloads
Download data is not yet available.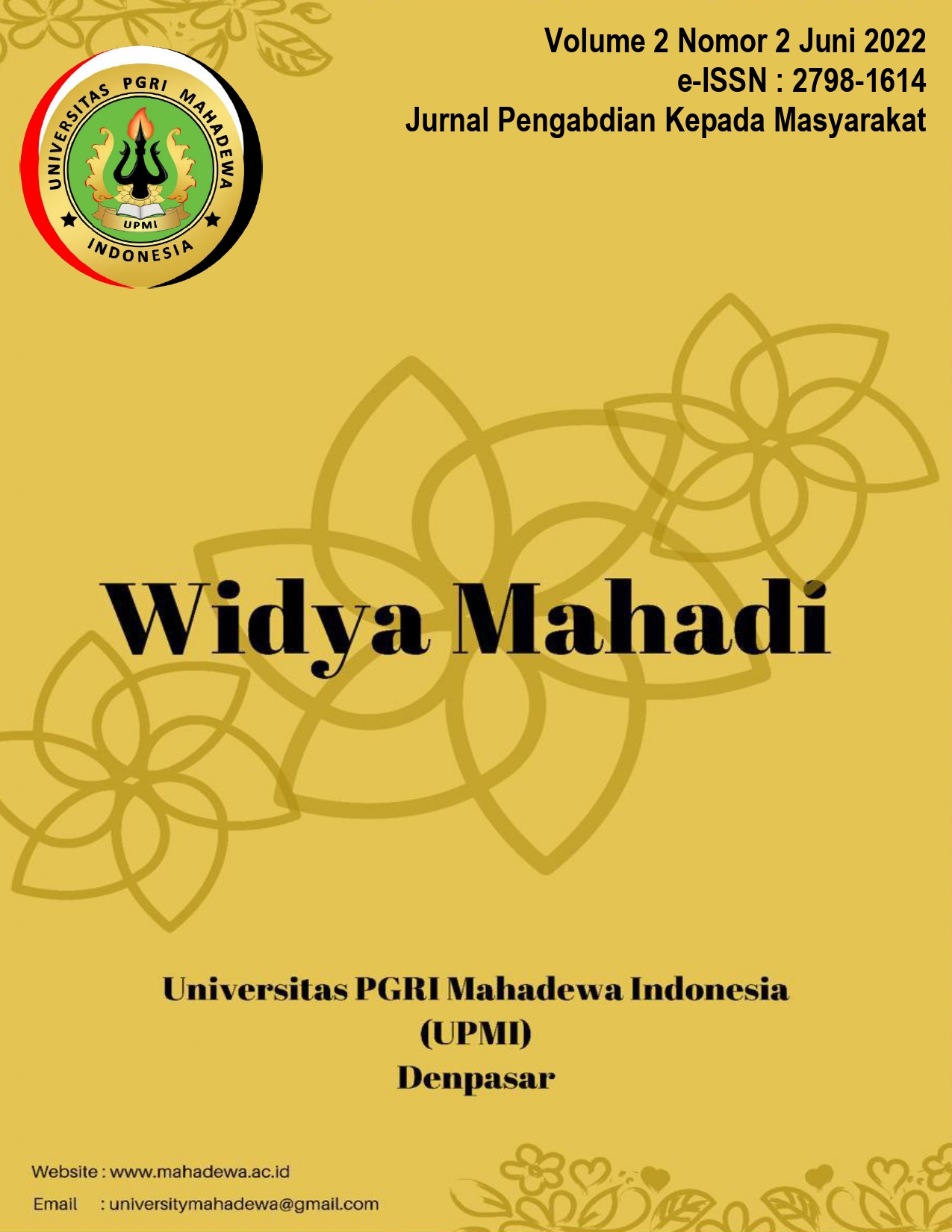 How to Cite
Ni Luh Putu Cahayani, Ida Bagus Oka Sudarsana, & I Ketut Sudana. (2022). PKM. PENINGKATAN KOMPETENSI GURU MELALUI PEDAMPINGAN PENULISAN ARTIKEL ILMIAH PENELITIAN TINDAKAN KELAS . Jurnal Pengabdian Kepada Masyarakat Widya Mahadi, 2(2), 52 - 60. https://doi.org/10.59672/widyamahadi.v2i2.1956