PENINGKATAN PEMBELAJARAN BERBASIS LITERASI DAN NUMERASI DI SEKOLAH DASAR NEGERI 3 UBUD MELALUI PENGABDIAN MASYARAKAT PROGRAM STUDI PENDIDIKAN EKONOMI FKIP UNIVERSITAS PGRI MAHADEWA INDONESIA
Keywords:
learning, literacy, numeracy
Abstract
This service activity aims to be a real forum for increasing numeracy literacy in schools and helping improve learning after the covid 19 pandemic. This community service is a mentoring activity carried out by students through a numeracy literacy scheme at Public Elementary School 3 Ubud, Gianyar. This activity is carried out for 1 month, starting from March 16, 2022 – April 16, 2022. Activities carried out by students with assistance include: (1) introduction to the scope of the school; (2) support classroom teachers in the development of numeracy literacy learning; (3) assisting the adaptation of the introduction of technology in teaching and learning activities. Service activities are collaborations carried out by lecturers and students through community service assistance with literacy and numeracy program schemes that have been running well, efficiently, effectively and maximally.
Downloads
Download data is not yet available.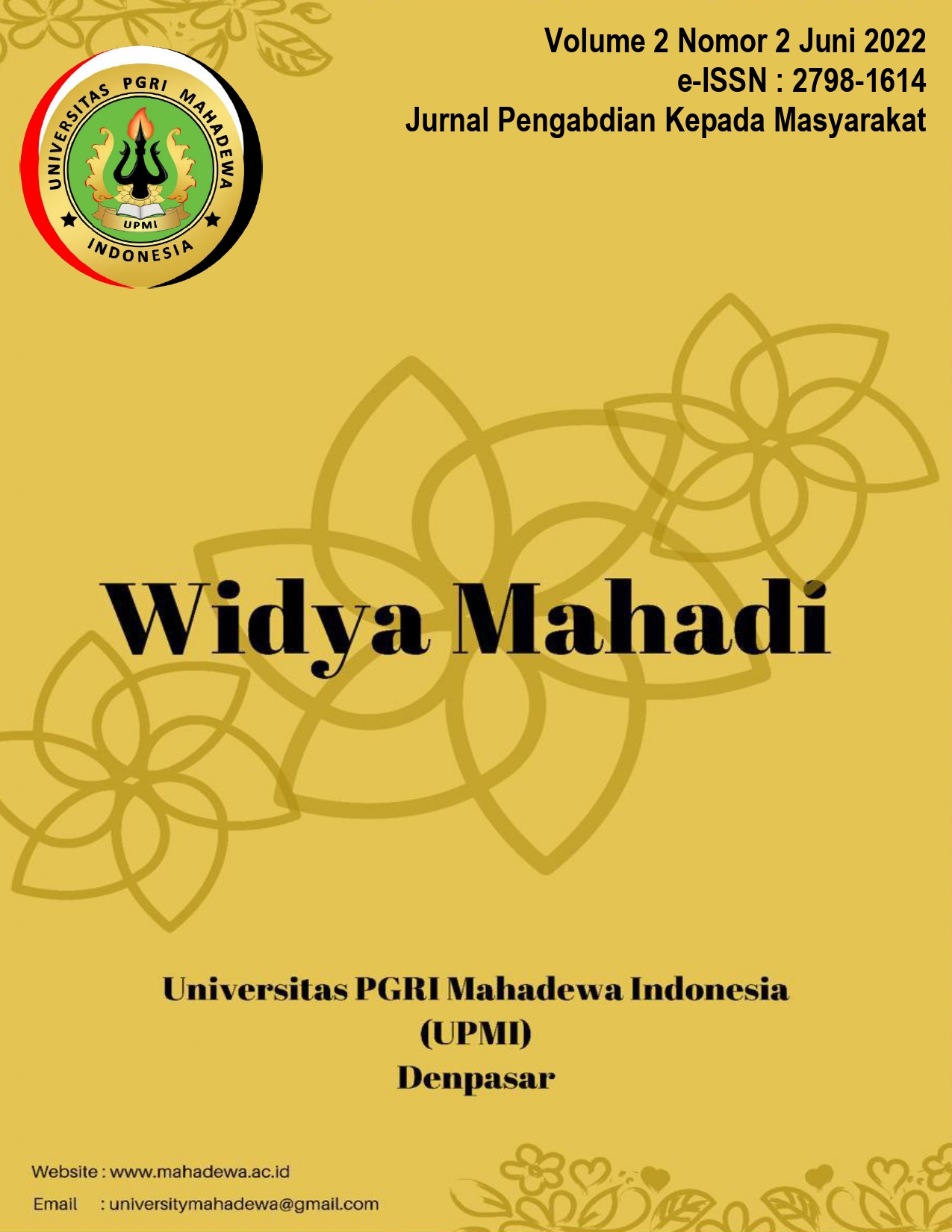 How to Cite
Putu Diah Asrida, Ni Wayan Widi Astuti, & Ni Nyoman Murniasih. (2022). PENINGKATAN PEMBELAJARAN BERBASIS LITERASI DAN NUMERASI DI SEKOLAH DASAR NEGERI 3 UBUD MELALUI PENGABDIAN MASYARAKAT PROGRAM STUDI PENDIDIKAN EKONOMI FKIP UNIVERSITAS PGRI MAHADEWA INDONESIA. Jurnal Pengabdian Kepada Masyarakat Widya Mahadi, 2(2), 26 - 33. https://doi.org/10.59672/widyamahadi.v2i2.1953