PKM. SMA NEGERI 8 DENPASAR DALAM MENINGKATKAN KAPASITAS PENULISAN KARYA ILMIAH SDM GURU
Keywords:
scientific writing, socialization, mentoring, teacher human resources
Abstract
Classroom action research is a research that raises the actual problems faced by teachers in the field. By carrying out classroom action research, teachers have a dual role, namely practitioners and researchers. Scientific publications by teachers are basically a form of teacher professionalism. The purpose of this service is to find a solution to the problem of the lack of knowledge of teacher human resources in making scientific papers in the form of classroom action research. These problems can be overcome by increasing capacity through learning and socialization through two approaches, namely training and mentoring. In general, the implementation of PKM at SMA Negeri 8 Denpasar has been running smoothly according to a predetermined schedule. In the implementation of PKM, the socialization of the 1st and 2nd stages has made a lot of progress. In the implementation of PKM UPMI at SMA Negeri 8 Denpasar as a partner school. Teachers' understanding of the substance of writing scientific articles for publication in journals with ISSN and carrying out CAR increases with assistance. Teacher motivation in writing scientific papers has grown, and there is a willingness of teachers to start writing proposals. This is an indicator that the skills of teachers to write rich scientific writing are increasing. The results of the CAR have been presented in seminars as a requirement for promotion for teachers to a higher level.
Downloads
Download data is not yet available.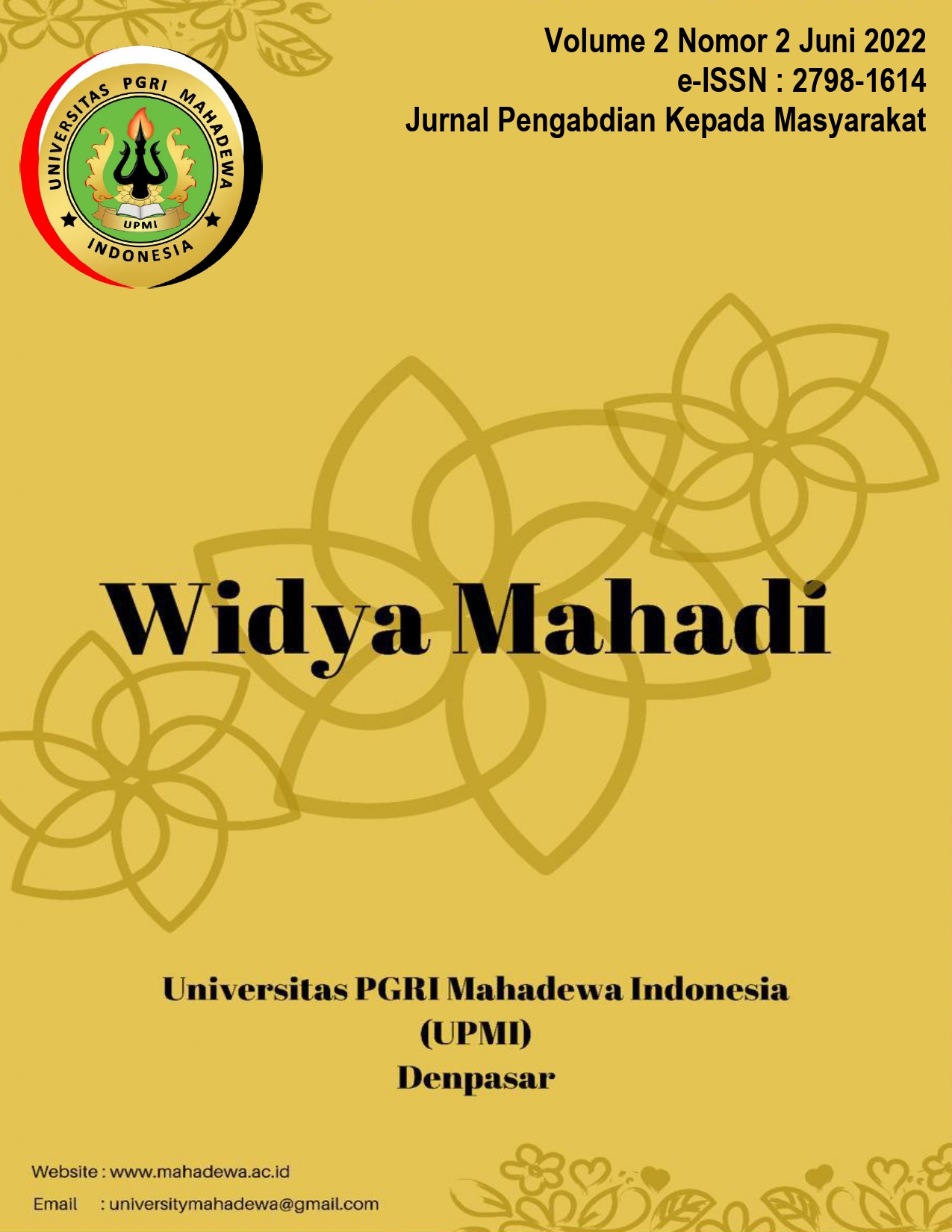 How to Cite
I Komang Sukendra, Putu Dessy Fridayanthi, Gusti Ayu Made Puspawati, & Ida Ayu Agung Ekasriadi. (2022). PKM. SMA NEGERI 8 DENPASAR DALAM MENINGKATKAN KAPASITAS PENULISAN KARYA ILMIAH SDM GURU. Jurnal Pengabdian Kepada Masyarakat Widya Mahadi, 2(2), 17 - 25. https://doi.org/10.59672/widyamahadi.v2i2.1952