WIRAUSAHA MASYARAKAT DESA MENDOYO KABUPATEN NEGARA DALAM PEMANFAATAN LIMBAH KAYU SEBAGAI PRODUK KERAJINAN TANGAN YANG RAMAH LINGKUNGAN
Keywords:
Wood Waste, Wooden Watch Craft
Abstract
Wood waste is the waste of the sawmill industry. So far, wood waste has caused a lot of problems in its handling, which has been left to rot, stacked and burned will have a negative impact on the environment, so its management needs to be considered. Judging from the potential that exists in Mendoyo village, especially in the Negara district, it is one of the largest producers of wood waste that has no use, which is simply piled up. So, we have the innovation of making a handicraft in the form of a watch made from wood waste. Which is an accessory craft that has added value and high creative value. This watch, combined with Balinese motifs or images on the watch. The benefits of this activity are, helping to reduce the amount of waste among the surrounding community, opening up new business opportunities for the community and also making the community aware of the importance of quality wood sawdust waste that has become waste that is not feasible to be used as a craft accessories with high economic value. The main targets are people of productive age, the academic community, and people who have middle and upper incomes, but it is possible that it will be wider and market to special markets and the art market because these watch products have high artistic value and creativity.
Downloads
Download data is not yet available.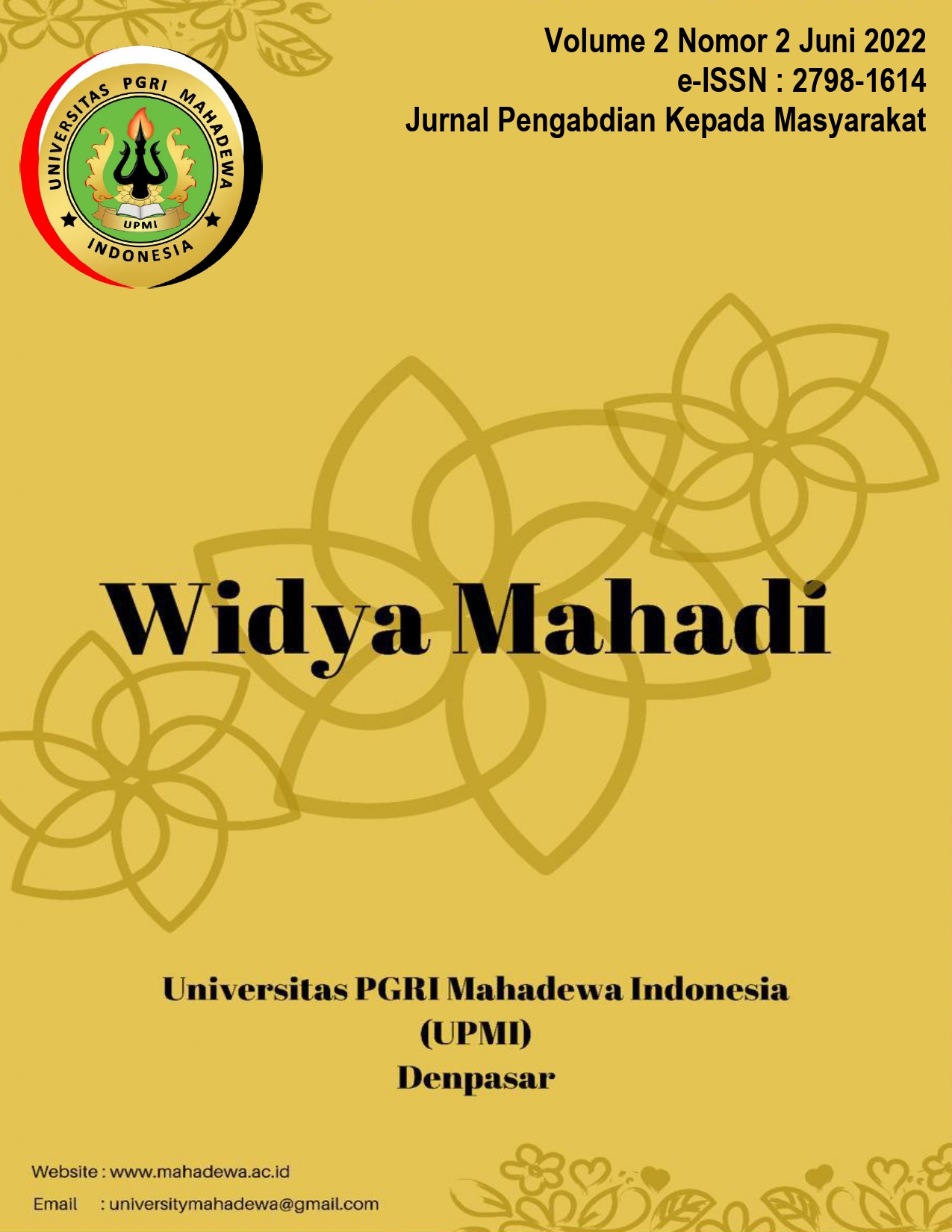 How to Cite
Ni Luh Putu Yesy Anggreni, I Putu Eka Indrawan, & Pande Komang Suparyana. (2022). WIRAUSAHA MASYARAKAT DESA MENDOYO KABUPATEN NEGARA DALAM PEMANFAATAN LIMBAH KAYU SEBAGAI PRODUK KERAJINAN TANGAN YANG RAMAH LINGKUNGAN. Jurnal Pengabdian Kepada Masyarakat Widya Mahadi, 2(2), 8 - 16. https://doi.org/10.59672/widyamahadi.v2i2.1951