PELATIHAN DAN PENDAMPINGAN PROGRAM PEMANDU WISATA SEJARAH MAHASISWA PROGRAM STUDI PENDIDIKAN SEJARAH UNIVERSITAS PGRI MAHADEWA INDONESIA PADA OBJEK WISATA YEH PULU, GIANYAR BALI
Keywords:
training, mentoring, historical tour guide
Abstract
A historical tour guide is one of the historical learning activities that utilize historical tourism objects as the basis for carrying out its activities. The method of implementing this Community Service is the field trip method, lecture method, training method, and guidance method. The training materials and assistance for historical tourism are in the form of: The material provided is the basics of scouting, how to become a tour guide, and historical tourism objects that can be used as training for historical tour guides. Based on the results of observations during the activity, it can be concluded that the material given to the training participants was well received, and the response given by the participants was very positive. The results of this service activity are that participants 1) understand the basics and techniques of being a historical tour guide, 2) know and understand the duties and ethics of a historical tour guide, 3) practice being a historical tour guide from the opening, core activities, and closing stages in guide activities. historical tourism, 4) able to guide historical tours and provide a self-image as a professional historical tour guide.
Downloads
Download data is not yet available.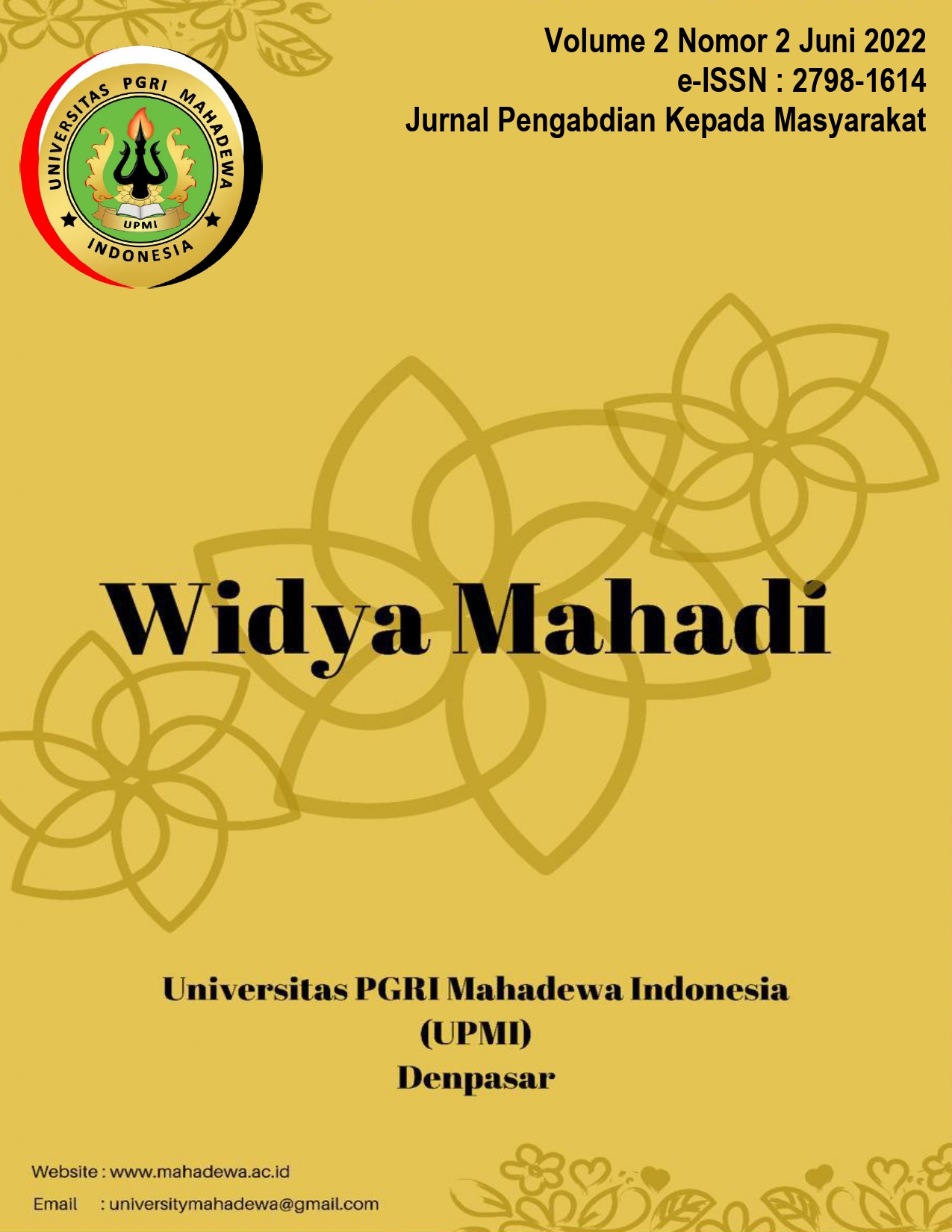 How to Cite
I Nyoman Bayu Pramartha, I Dewa Made Alit, & Ni Putu Yuniarika Parwati. (2022). PELATIHAN DAN PENDAMPINGAN PROGRAM PEMANDU WISATA SEJARAH MAHASISWA PROGRAM STUDI PENDIDIKAN SEJARAH UNIVERSITAS PGRI MAHADEWA INDONESIA PADA OBJEK WISATA YEH PULU, GIANYAR BALI. Jurnal Pengabdian Kepada Masyarakat Widya Mahadi, 2(2), 1 - 7. https://doi.org/10.59672/widyamahadi.v2i2.1948