MAKNA FILOSOFI MOTIF KAIN TENUN SONGKE DI DESA PONNG LENGOR KECAMATAN RAHONG UTARA KABUPATEN MANGGARAI NUSA TENGGARA TIMUR
Keywords:
Meaning of Motif, Songke Woven Fabric, Manggarai
Abstract
This study aims to determine (1) the forms of Songke Manggarai woven fabric motifs; (2) Factors influencing the development of Songke Manggarai woven fabric motifs; (3) The philosophical meaning of Songke woven fabric motifs. The theory used in this research is symbol theory, consumer culture theory and semiotic theory. In an effort to obtain data, the method of determining informants, data collection methods, and data processing methods is used. This study concludes that (1) the Songke Manggarai woven motifs include the wela runu motif, the ranggong motif, the wela kaweng motif, the ntala motif, the su'i motif, the seat motif (2) The development of the Songke woven fabric motif in Pong Lengor Village, North Rahong District, Manggarai is influenced by creativity factors, economic factors, consumer factors, external cultural factors, and function diversification factors (3) The Wela Runu motif implies that every life in this world must have benefits. The Ranggong motif is a symbol of honesty and hard work. The wela kaweng motif means the relationship between humans and the natural surroundings. The su'i motif (lines) has the meaning that life grows and develops.
Downloads
Download data is not yet available.
References
Astuti, Liliana. 2018. Termarjinalisasinya Pengerajin Towe Songke Di Desa Golo Lembur Kecamatan Lamba Leda Kabupaten Manggarai Timur. Denpasar. FPIPS IKIP PGRI Bali.
Carl, G Jung. 1964. Man And His Symbols. New York: Anchor Press.
Dagur, Antony Bagul. 1997. Kebudayaan Manggarai Sebagai Salah Satu Khasanah Kebudayaan Nasional. Surabaya: Ubhara Press.
Damsar. 2015. Pengantar Teori Sosiologi. Jakarta: Kencana Prenadamedia Group.
Deki, Kanisius T. 2011. Tradisi Lisan Orang Manggarai: Membidik Persaudaraan Dalam Bingkai Sastra. Jakarta: Parrhesia Institute.
Endraswara, Suwardi. 2013. Metodologi Penelitian Kebudayaan. Yogyakarta: Gadjha Mada University Press
Jaggur, Petrus.2010. Butir-butir Adat Manggarai. Ruteng: Yayasan Siri Bongkok
Jebaru, F. E., & Tejawati, N. L. P. (2019). Dodo Sebagai Bentuk Kearifan Lokal Untuk Memelihara Solidaritas Sosial Masyarakat Desa Meler Kecamatan Ruteng Kabupaten Manggarai. Social Studies, 7(2), 37-45.
Koentjaraninggrat. 2005. Pengantar Antropologi. Jakarta: Rineka Cipta.
Martono, Nanang. 2011. sosiologi perubahan sosial: Prespektif Klasik, Modern, Posmodern dan Poskolonial. Jakarta: Rajawali Pers.
Nggoro, Adi M. 2006. Budaya Manggarai Selayang Pandang. Ende: Nusa Indah.
Nugroho, J Setiadi, 2010. Perilaku konsumen: Prespektif Kontenporer Pada Motif, Tujuan, dan Keinginan Konsumen. Jakarta: Pernadamedia Group.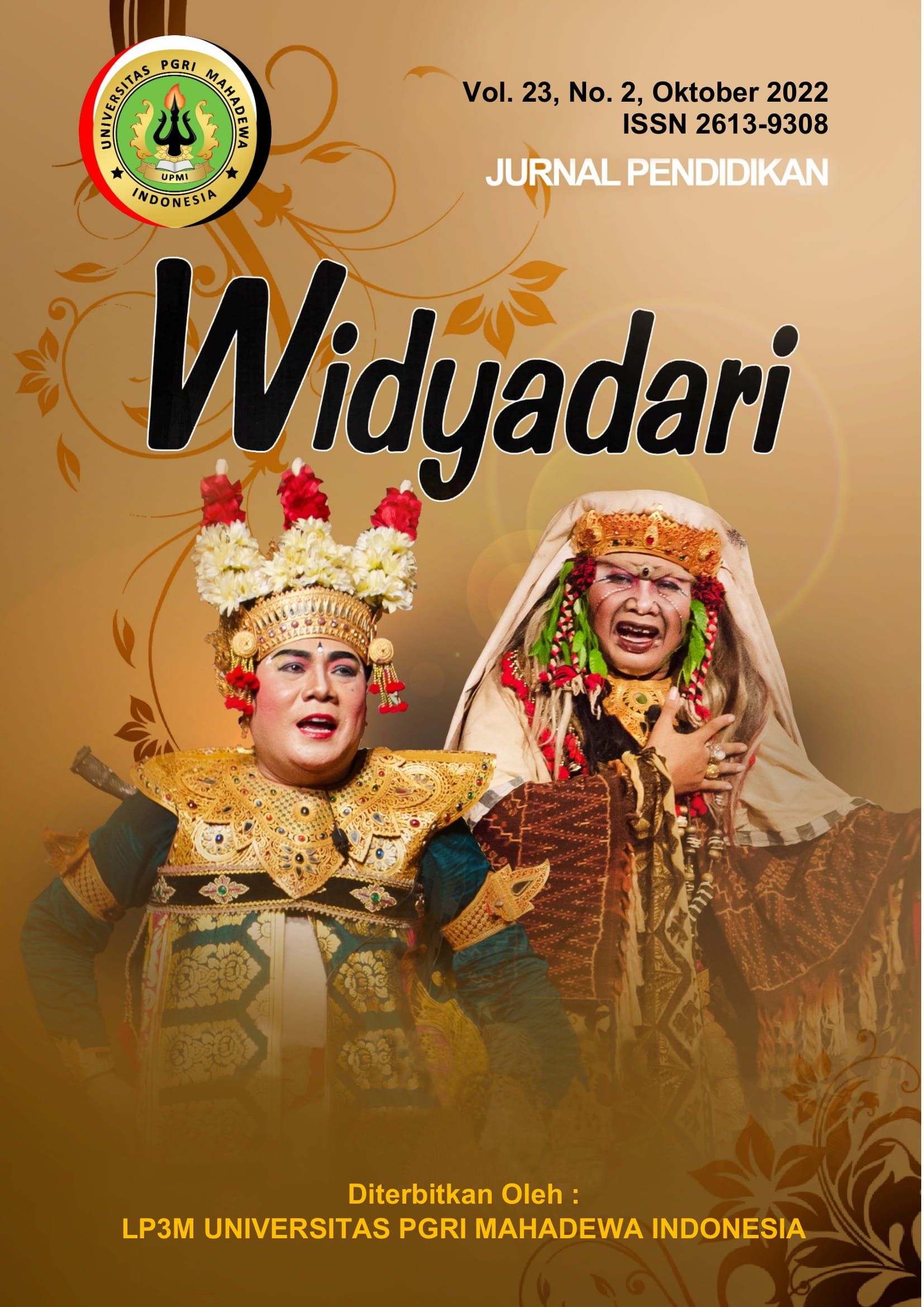 How to Cite
Teklasani Juita, & Ni Luh Putu Tejawati. (2022). MAKNA FILOSOFI MOTIF KAIN TENUN SONGKE DI DESA PONNG LENGOR KECAMATAN RAHONG UTARA KABUPATEN MANGGARAI NUSA TENGGARA TIMUR. Widyadari : Jurnal Pendidikan, 23(2), 389 - 399. https://doi.org/10.5281/zenodo.7190282
Copyright (c) 2022 LP3M Universitas PGRI Mahadewa Indonesia
This work is licensed under a Creative Commons Attribution-NonCommercial-ShareAlike 4.0 International License.
Hak cipta mencakup hak eksklusif untuk mereproduksi dan mengirimkan artikel ini dalam semua bentuk dan media, termasuk mencetak ulang, memotret, mikrofilm dan reproduksi serupa lainnya, serta terjemahannya. Reproduksi dari bagian manapun dari jurnal ini, penyimpanannya di database dan transmisinya dengan bentuk atau media apa pun, seperti salinan elektronik, elektrostatik dan mekanis, fotokopi, rekaman, media magnetik, dan lain-lain, akan diizinkan hanya dengan izin tertulis dari penerbit jurnal.