IMPLEMENTASI KONSELING BEHAVIORAL DENGAN TEKNIK SELF MANAGEMENT UNTUK MENANGGULANGI PERILKU MEMBOLOS
Keywords:
Behavioral Counseling, Self Management Techniques, Ditching Behavior
Abstract
This study aims to overcome ditching behavior through behavioral counseling with self management techniques in grade XI AP 2 students of SMK Wira Bhakti Denpasar Year 2020/2021 where the number of students targeted by the study amounted to 35 students and 5 of them had ditching behavior. Based on the evaluation results after the implementation of behavioral counseling with self management techniques in cycle I, there was a slight decrease ditching behavior in grade XI AP 2 smk Wira Bhati Denpasar Year 2020/2021 individually 74%to 68% and in groups seen an average decrease of 72.4%. After finding some weaknesses in cycle I then held improvements in cycle II so that there was a decrease in individual ditching behavior 48 % to 52 % and in groups experienced an average decrease of 48 %. Thus, it can be concluded that through the implementation of behavioral counseling with self management techniques are able to disrupt ditching behavior in grade XI AP 2 students of SMK Wira Bhakti Denpasar Year 2020/2021. Based on the results of this study, it is recommended that BK teachers should provide behavioral counseling services with self-management techniques to disrupt ditching behavior in students.
Downloads
Download data is not yet available.
References
Arikunto, Suharsimi.2006. Metode dan Prosedur Penelitian. Jakarta: PT. Rineka Cipta
Aqib. Zainal. 2011. Penelitian Tindakan
Kelas : Bandung, Yrama Widya
Aier, D. (2016). The School As An Influencing Factor Of Truancy. International Journal Of Criminology and Sociology, 5, suka.ac.id/ushuluddin/esensia/issue/view/17
Corey, Gerald. 2013. Teori dan Praktek Konseling dan Psikoterapi. Bandung : Refika Aditama
Damayanti, F.A.,& Setawati, D. 2013. Studi Tentang Perilaku Membolos Pada Siswa SMA Swasta di Surabaya .Jurnal BK UNESA, 3(1), 454-461. Diunduh dari http://ejournal.unesa.ac.id/article/6487/13/article.pdfEspelage&Swearer.(200 Research on school bullying and victimization: What have we learned and where do we go from here?: Journal of School Psychology Review, 32(4), pp 365-384.
Gunarsa, Singgih. 2012. Psikologi untuk Membimbing. Jakarta : PT Gunung Mulia
Hurlock, Elisabet B. 1980. Psikologi Perkembangan: suatu pendekatan sepanjang rentang kehidupan. Jakarta : Gramedia
Hartono & Boy Soedarmadji. Psikologi Konseling Edisi Revisi. Jakarta: Kencna Prenada Media Group
Indayani, A., Sedanayasa, G., & Antarani, N.N.M., 2014 Penerapan Konseling Behavioral Dengan Teknik Penguatan Positif Sebagai Upaya Untuk Meminimalisasi Perilaku Membolos pada siswa kelas XI SMA Negeri 1 Sawangan Tahun Pelajaran 2013/2014, e-journal Undiksa Jurusan BimbinganDan Konseling Volume: 2 No 1, 1-10
Januardi, P. 2017. Pengaruh Konformitas dan Motivasi Belajar untuk Bermain Membolos Pada Remaja SMKN 10 Semarang : Universitas Negeri Semarang
Khanisa, S. 2012. Pengaruh Layanan Konseling Kelompok dengan Menggunakan Teknik Pendekatan Behavior untuk Mengatasi Perilaku Membolos. Semarang
Komalasari, Gantina., Wahyuni E. (2011) Teori dan Teknik Konseling. Jakarta : PT Indeks
Prayitno. 2006. Psikologi Perkembangan Remaja. Padang: Angkasa Raya
Rahmani, Oktaviani (2018) Faktor Mempengaruhi Kenakalan Remaja pada Siswa MAN 2 Model Pekan Baru. Jurnal OF Midwifery Sciens (JOMISI) Vol.3.NO.2
Santrock, John W. 2002. Life-Span Development: Perkembangan Masa Hidup, Edisi Kelima Jilid III. Jakarta Erlangga
Tutiono, 2016. Upaya Mengurangi Perilaku Membolos Melalui Konseling Individual dengan Teknik Behavioral Contract pada siswa SMP Negeri 6 Palu. Jurnal Konseling dan Psikoedukasi, 1 910
Wijaya P. Andi "Efektifitas Layanan Konseling Behavioral Dengan Teknik Self Management Untuk Mengatasi Perilaku Membolos Kelas X MAN 2 Bandar Lampung Tahun Pelajaran 2018/2019" Jurnal Bimbingan dan Konseling 2019.h.89
Wardani,2007. Penelitian Tindakan Kelas, Universitas Terbuka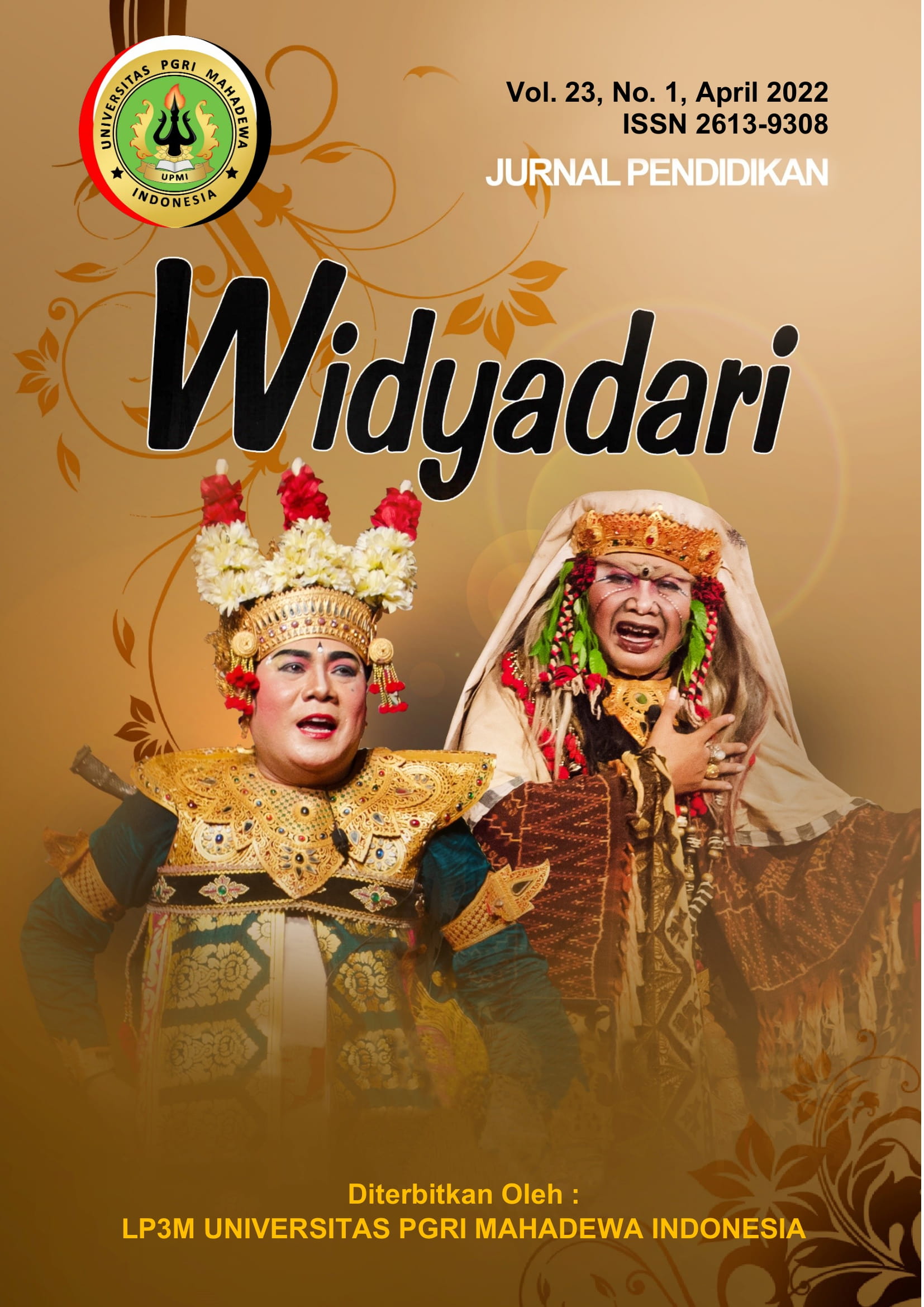 How to Cite
Kadek Suhardita, I Dewa Ayu Eka Purba Dharma Tari, I Wayan Juliawan, & Karolina Skolastika Wijaya. (2022). IMPLEMENTASI KONSELING BEHAVIORAL DENGAN TEKNIK SELF MANAGEMENT UNTUK MENANGGULANGI PERILKU MEMBOLOS . Widyadari, 23(1), 206 - 219. Retrieved from https://ojs.mahadewa.ac.id/index.php/widyadari/article/view/1867
Copyright (c) 2022 LP3M Universitas PGRI Mahadewa Indonesia
This work is licensed under a Creative Commons Attribution-NonCommercial-ShareAlike 4.0 International License.
Hak cipta mencakup hak eksklusif untuk mereproduksi dan mengirimkan artikel ini dalam semua bentuk dan media, termasuk mencetak ulang, memotret, mikrofilm dan reproduksi serupa lainnya, serta terjemahannya. Reproduksi dari bagian manapun dari jurnal ini, penyimpanannya di database dan transmisinya dengan bentuk atau media apa pun, seperti salinan elektronik, elektrostatik dan mekanis, fotokopi, rekaman, media magnetik, dan lain-lain, akan diizinkan hanya dengan izin tertulis dari penerbit jurnal.