PENGGUNAAN VIDEO PEMBELAJARAN BERBASIS YOUTUBE UNTUK MENINGKATKAN HASIL BELAJAR BILANGAN PECAHAN SECARA DARING
Keywords:
learning videos, learning outcomes, student interest
Abstract
From the background of global conditions regarding the outbreak of covid-19 which causes low student learning outcomes and student interest in mathematics lessons because learning is carried out online, this study aims to improve student learning outcomes and interest in mathematics lessons about fractions through video-based learning media YouTube. This research is a classroom action research conducted in two cycles with the research subjects being 47 students of class VI SDN 1 Peguyangan. Collecting data in this study using test instruments and questionnaires with quantitative data collection which is processed into qualitative data. Regarding the data on student learning outcomes seen from the initial conditions with the pretest to the first cycle there has been an increase, as well as in the second cycle. When compared with the PAP criteria, learning outcomes have increased from the initial conditions in the low category to being in the moderate category after the first cycle and remaining in the moderate category after the second cycle. Thus, it can be concluded that the use of YouTube-based learning video media can improve mathematics learning outcomes in class VI SDN 1 Peguyangan online
Downloads
Download data is not yet available.
References
Cambridge Dictionary. (n.d.). YouTube Definition. https://dictionary.cambridge.org/dictionary/english/youtube
Djiwandono, S. E. (2012). Psikologi Pendidikan. Grasindo.
Olivia, F. (2011). Teknik Ujian Efektif. PT. Elex Media Komputindo.
Sudijono, A. (2015). Pengantar Statistik Pendidikan. PT Rajagrafindo Persada.
Sugiyono. (2013). Metode Penelitian Pendidikan Pendekatan Kuantitatif, Kualitatif, dan R&D. Alfabeta.
Wikipedia Bahasa Indonesia. (n.d.). Pengertian Youtube. https://id.wikipedia.org/wiki/YouTube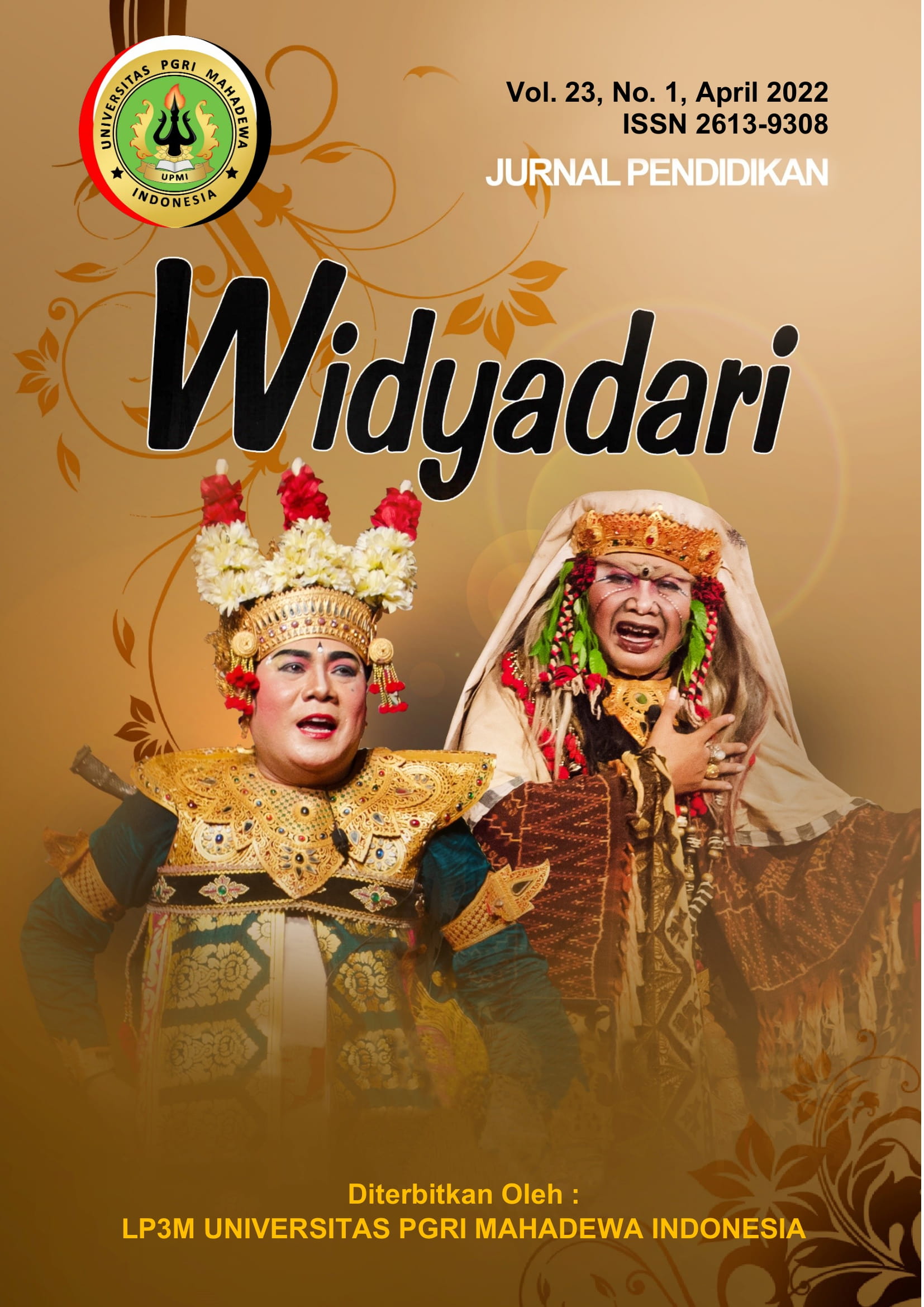 How to Cite
PENGGUNAAN VIDEO PEMBELAJARAN BERBASIS YOUTUBE UNTUK MENINGKATKAN HASIL BELAJAR BILANGAN PECAHAN SECARA DARING. (2022). Widyadari, 23(1), 195 - 205. Retrieved from https://ojs.mahadewa.ac.id/index.php/widyadari/article/view/1866
Copyright (c) 2022 LP3M Universitas PGRI Mahadewa Indonesia
This work is licensed under a Creative Commons Attribution-NonCommercial-ShareAlike 4.0 International License.
Hak cipta mencakup hak eksklusif untuk mereproduksi dan mengirimkan artikel ini dalam semua bentuk dan media, termasuk mencetak ulang, memotret, mikrofilm dan reproduksi serupa lainnya, serta terjemahannya. Reproduksi dari bagian manapun dari jurnal ini, penyimpanannya di database dan transmisinya dengan bentuk atau media apa pun, seperti salinan elektronik, elektrostatik dan mekanis, fotokopi, rekaman, media magnetik, dan lain-lain, akan diizinkan hanya dengan izin tertulis dari penerbit jurnal.