Penerapan Gelembung Wisata untuk Desain Penerimaan Wisatawan Mancanegara di Provinsi Bali : Studi Kasus Festival Bulutangkis, Nusa Dua
Keywords:
gelembung wisata, pariwisata, bali
Abstract
Pandemi Covid-19 memaksa pariwisata Bali untuk berhenti sejenak. Pengharapan kemudian muncul ketika Bali secara resmi dibuka untuk dunia pada tanggal 14 Oktober 2021. Namun, dibukanya Bali untuk wisatawan asing tak lantas membuat Bali ramai dikunjungi. Faktanya tidak ada penerbangan internasional yang datang. Festival bulu tangkis di Nusa Dua, menjadi contoh menarik dengan menggunakan gelembung wisata, konsep ini bisa menjadi solusi bagaimana desain penerimaan wisatawan di Bali. Tujuan penelitian ini adalah menganalisis penatalakasanaan sistem gelembung wisata dalam pelaksanaan festival bulutangkis di Nusa Dua, Bali. Penelitian ini menggunakan desain kualitatif dengan pendekatan Rapid Assesment Procedures. Partisipan sebanyak 5 orang yang dianggap mampu menjelaskan proses gelembung wisata. Hasil tabulasi data menyatakan jika pelaksanaan gelembung wisata pada festival bulutangkis memiliki 3 alur yaitu penataan protokol dalam hotel, penatalaksanaan logistik dan penatalaksanaan protokol di destinasi wisata, selama pelaksanaan festival bulutangkis tidak ada yang terpapar Covid-19. Gelembung wisata dapat menjadi alternatif sistem penerimaan wisatawan dengan skala besar maupun skala kecil untuk berlibur di Bali.
Downloads
Download data is not yet available.
References
Ariyawadana, S. N. N. (2021). 'Post Covid- 19 Tourism Resumes With 'Travel Bubble': A Study On The Preparation Of The Hotels And Restaurants In Nuwara Eliya, Sri Lanka', Journal of Tourism & Sports Management vol, 4.hh. 611– 621
Anggraini, D. T. (2021). 'Upaya Pemilihan Industri Pariwisata dalam Situasi Pandemi Covid-19', Universitas BSI Jakarta, Pariwisata, Vol. 8 No.1
Badminton World Federation. (2021). 'Safety protocols & operating procedures 2021
European Centre for Disease Prevention and Control. (2021). Interim guidance on the benefits of full vaccination against COVID-19 for transmission risks and implications for non- pharmaceutical interventions-21 April 2021. ECDC:Stockholm;2021
Keeling, M., Flasche, 2021, 'The effectiveness of social gelembung wisatas as part of a Covid-19 lockdown exit strategy, a modelling study' Wellcome Open Res . 2021 Mar 29;5:213. doi: 10.12688/wellcomeopenres.16164.2. eCollection 2020
Kementerian Luar Negeri Republik Indonesia. (2022). Protokol Kesehatan pelaku perjalanan luar negeri mekanisme Travel Bubble di kawasan Batam, Bintan dengan Singapura pada masa Pandemi Covid-19
Khatib, A. N., Carvalho, Primavesi, Kent To, Poirier, 2020, 'Navigating the risk of flying during COVID-19 : a review for safe air travel', J Travel
La Marca, Capuzzo, Paglia, Roli, Trenti & Nelson, 2021,'Testing for SARS- CoV-2 (COVID-19): a systematic review and clinical guide to molecular and serological in-vitro diagnostic assays' RBMO vol. 41, issue 3
Leng, T., White, Hilton, Kucharski, Pells, Stage, Davies, 2021,'The effectiveness of social gelembung wisatas as part of a Covid-19 lockdown exit strategy, a modelling study' Welcome Open Research, 5:21
Luo, J. M., & Lam, C. F., 2020,' Travel Anxiety, Risk Attitude and Travel Intentions towards "Travel Bubble" Destinations in Hong Kong: Effect of the Fear of Covid-19' International Journal of Environmental Research and Public Health, Received: 22 September 2020; Accepted: 6 October 2020; Published: 27 October 2020
Massey, A., Lindsay, S., Seow, D., Gordon, J., Lowe, D. J. (2021). Bubble concept for sporting tournaments during the Covid-19 pandemic: Football Club World Cup. BMJ Open Sport Exerc Med. 2021 Jun 21;7(2):e001126. Doi: 10.1136/bmjsem-2021-001126. PMID: 34221444; PMCID: PMC8219483
Michael Duignan, Ilaria Pappalepore, Andrew Smith, Yvonne Ivanescu. (2022). Tourists' experiences of mega-event cities: Rio's olympic 'double bubbles'. Annals of Leisure Research 25:1, pages 71-92
Palvi, A., & Maltezou, H. C. (2021). 'Covid-19 Vaccine Passport for Safe Resumption of Travel' Journal of Travel Medicine hh. 1-3. Submitted 30 April 2021; Revised12 May 2021; Editorial Decision 13 May 2021; Accepted 13 May 2021
Sharun, K., Tiwari, R., Natesan, Iqbal, Malik, & Dhama, K., (2020). 'Internasional travel during the Covid-19 pandemic:implications and risk associated with 'travel bubble' J Travel Med. 2020 Dec 23;27(8):taaa184. doi : 10.1093/jtm/taaa184
Shaw, J., Day, Malik, Barber, Wickenheiser, Fisman,Bogoch, Brownstein, Williamson. (2020). 'Working in a Bubble: How can businesses reopen while limiting the risk of Covid-19 outbreaks?', CMAJ, Vol. 192 Issue 44
Utarini, A. (2020).' Tak Kenal Maka Tak Sayang : Penelitian Kualitatif dalam Pelayanan Kesehatan. UGM Pres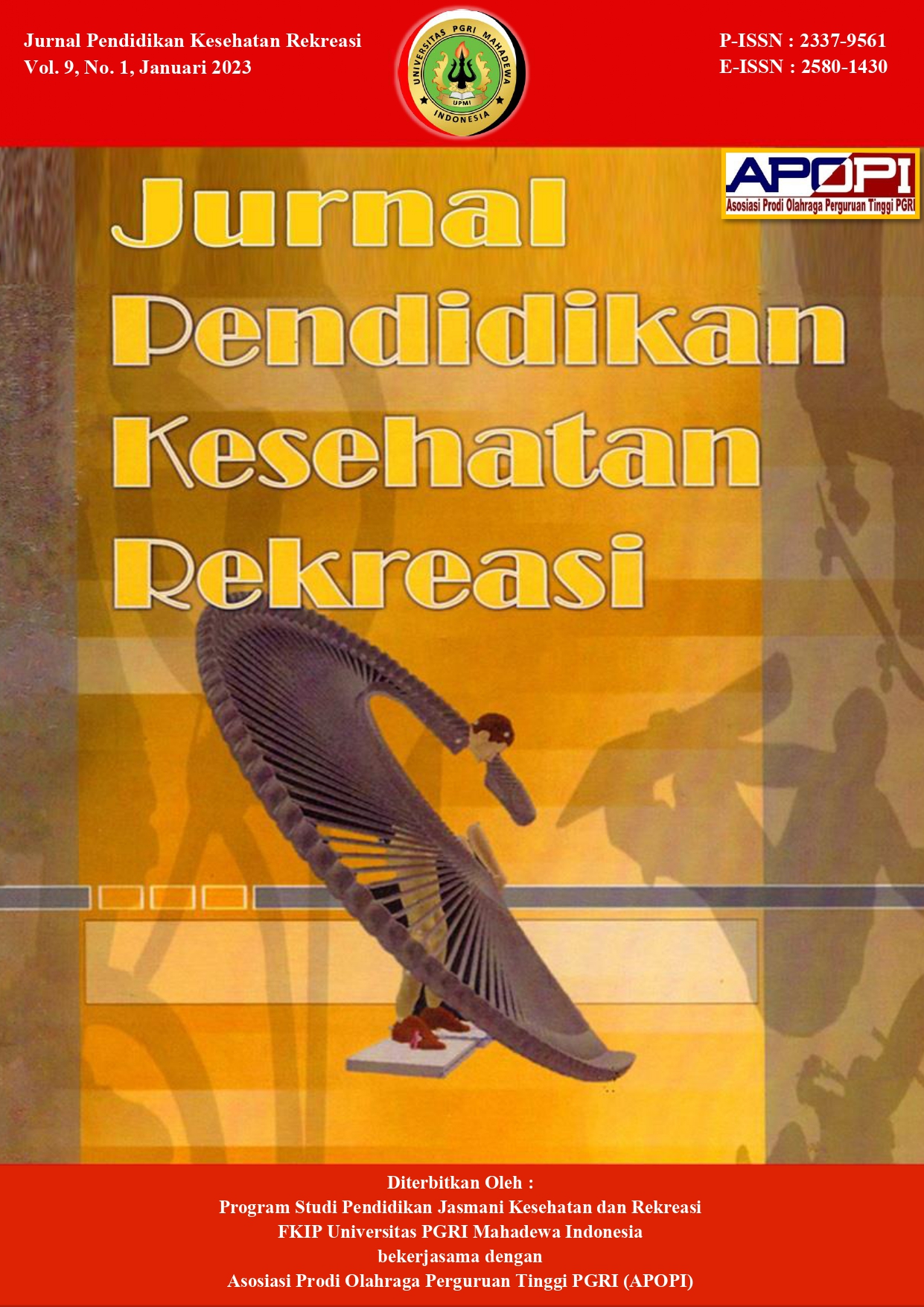 How to Cite
Nugraha, I. N. A., Suandari, P. V. L., Wirajaya, M. K. M., Wardana, Z. F., & Bawa, P. W. (2023). Penerapan Gelembung Wisata untuk Desain Penerimaan Wisatawan Mancanegara di Provinsi Bali : Studi Kasus Festival Bulutangkis, Nusa Dua. Jurnal Pendidikan Kesehatan Rekreasi, 9(1), 196-206. https://doi.org/10.5281/zenodo.7613537
Copyright (c) 2023 I Nyoman Adikarya Nugraha, Putu Vierda Lya Suandari, Made Karma Maha Wirajaya, Zainal Firdaus Wardana, Pande Wayan Bawa
This work is licensed under a Creative Commons Attribution-NonCommercial-ShareAlike 4.0 International License.
Jurnal Pendidikan Kesehatan Rekreasi is published under the terms of Creative Commons Attribution 4.0 International License / CC BY NC SA 4.0. This license permits others to copy, distribute, modify, and create derivative works for non-commercial purposes only