PENERAPAN BIMBINGAN KELOMPOK DENGAN TEKNIK SOSIODRAMA UNTUK MENINGKATKAN MOTIVASI BELAJAR SISWA KELAS XI TKJ SMK NEGERI 1 SUKAWATI TAHUN 2020/2021
Keywords:
Group Guidance, Sociodrama, Learning Motivation
Abstract
The study is intended to enhance students' learning via application of socioclastic groups using sociodramatic techniques in x TKJ SMK country 1 sukawati lesson year 2020/2021 in which the number of students studying is 12 students, 6 students have low learning motivation. Research on both siiklus and counseling (PPR) is carried out in two cycles of individual siiklus: planning, execution, observation or evaluation, and reflection. Based on the evaluation after the performance of group instruction with sociodramatic techniques on the 1 cycle for action both individually and in groups where the average observation before action of the six children is 33 under the low category of observation on the I action is 45.2 with an average increase of 36.7%, and the average observation on cycle ii 73.8 with an average increase of 64.1%. It may thus be concluded that the application of group guidance with sociodramatic techniques to enhance the study motivation of x TKJ SMK country 1 sukawati lesson year 2020/2021. As to the results of the above conclusion, it is suggested to the bk teacher and other schools to use the group's guiding techniques as a media to improve the performance of learning in growing the motivation for learning
Downloads
Download data is not yet available.
References
Hamzah B.Uno. (2017). Teori Motivasi & Pengukurannya: Kajian & Analisis di Bidang Pendidikan. Malang : Bumi Aksara.
Hasan, M. I. (2009) Pokok-Pokok Materi Statistik 1 Statistik Deskriptif. Jakarta:
Bumi Aksara.
Kurniawan, D. (2014). Hubungan Motivasi Belajar terhadap Kemandirian Belajar Siswa Kelas XI pada Kompetensi Mengidentifikasi Sistem Pengapian dan Komponennya Program Studi Keahlian Teknik Otomotif SMK Taman Siswa Yogyakarta Tahun Ajaran 2013/2014. Program Studi Teknik Otomotif Fakultas Teknik Universitas Negeri Yogyakarta (Skripsi).
.
Prayityno. (1999). Dasar-Dasar Bimbingan dan Konseling. Jakarta : Rineka Cipta.
Romlah. (2001). Teori dan Praktik Bimbingan Kelompok. Malang : UM.
Sanjaya, W. (2009). Strategi Pembelajaran Berorientasi Standar Proses Pendidikan. Jakarta : Kencana Prenada Media Group
Tohirin. (2015). Bimbingan dan Konseling di Sekolah dan Madrasah. Surabaya : Rajagrafindo Persada.
Sumiati, dan Asra. (2016) Media Pembelajaran. Bandung : Cv Wacana Prima
Zulfadri, I. & Safitri, E. (2019). Pengaruh Motivasi Belajar Terhadap Prestasi Belajar Siswa Kelas XI IPS SMA Negeri 6 Merangin. Jurnal Tunas Pendidikan. Vol. 2 No. 1.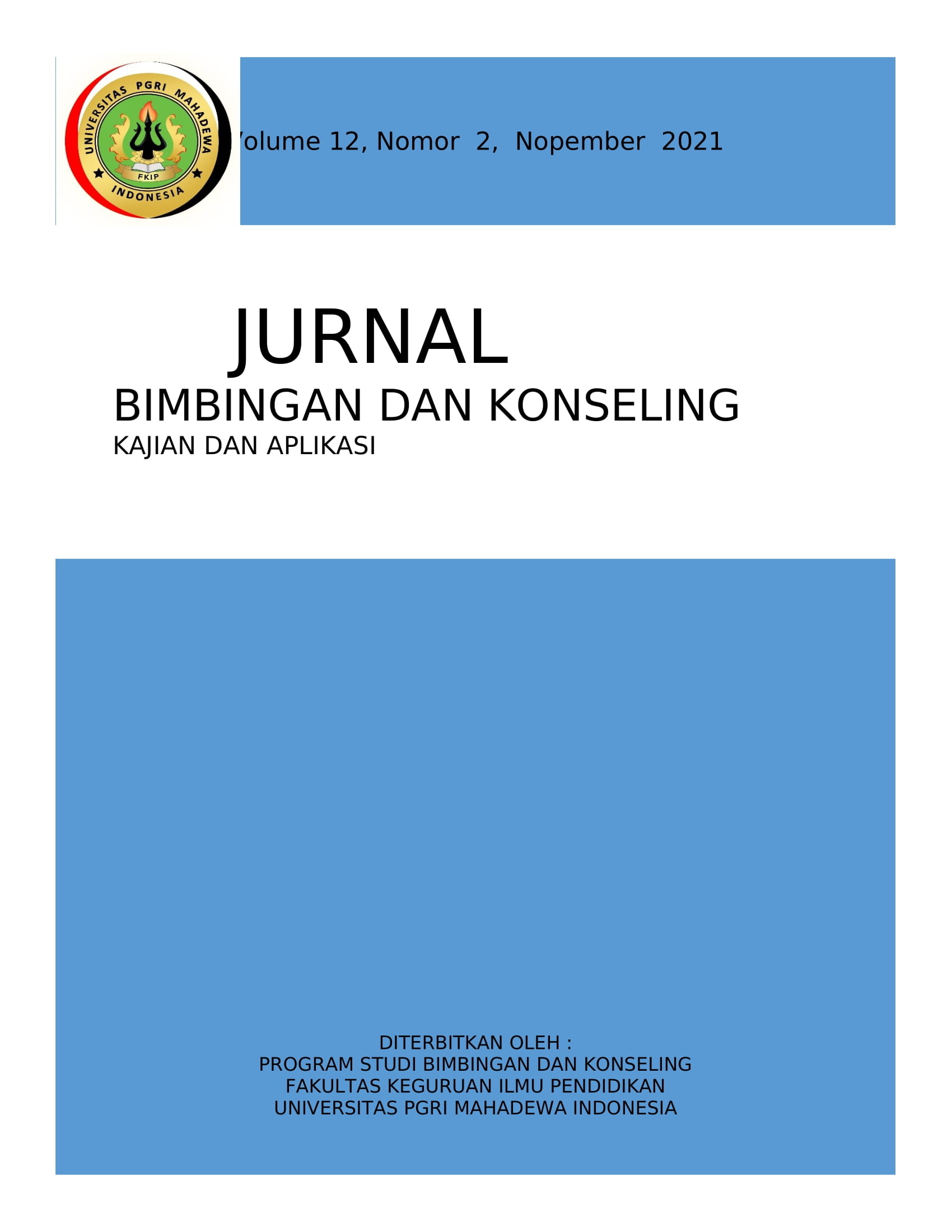 How to Cite
PENERAPAN BIMBINGAN KELOMPOK DENGAN TEKNIK SOSIODRAMA UNTUK MENINGKATKAN MOTIVASI BELAJAR SISWA KELAS XI TKJ SMK NEGERI 1 SUKAWATI TAHUN 2020/2021. (2021). Jurnal Bimbingan Dan Konseling: Kajian Dan Aplikasi, 12(2), 1-5. Retrieved from https://ojs.mahadewa.ac.id/index.php/jbk/article/view/1581