HUBUNGAN POLA ASUH ORANG TUA DENGAN TINGKAT KEMANDIRIAN ANAK DIKALANGAN SISWA KELAS XI SMK NEGERI 1 DENPASAR TAHUN AJARAN 2019/2020
Keywords:
Parenting style, level of independence, Census study, Ex Post Facto
Abstract
This study aims to determine whether or not there is a relationship between Parenting Parents and the Level of Independence of Children in Class XI Students of SMK Negeri 1 Denpasar in Academic Year 2019/2020 where this research is an Ex Post Facto study with the population of Grade XI students of SMK Negeri 1 Denpasar in Academic Year 2019/2020. Taking the subject of this study using the Census Study technique with a sample of 140 students. Data collected by questionnaire method. Then the data is analyzed with a simple regression statistical analysis using the SPSS 20.0 for Windows program.
The results showed that the correlation between product moment between parenting and the level of independence of children obtained r value of -0.667 and significance = 0.000 <0.05. This means there is a significant relationship between parenting parents with the level of independence of children. The correlation result (r) is positive means there is a positive relationship between parenting patterns of the child's level of independence. So the better the parenting style, the higher the level of children's independence, and vice versa.
Downloads
Download data is not yet available.
References
Asrori Hadi. Muhamad. 2007. Psikologi Pembelajaran. Bandung: Bumi Rancaekek Kencana
Ary Mahaputra, Gede. 2013.Pengaruh Pola Asuh Orang Tua Terhadap Kecenderungan Perilaku Menyimpang Siswa Kelas Xi Sma Negeri 2 Singaraja Tahun Pelajaran 2013/2014. Skripsi
Dantes, Nyoman. 2012. Metode Penelitian. Yogyakarta: Andi Offset
Dwi Endra Suanthara, I Nengah. 2012. Hubungan Pola Asuh Orang Tua, Kecerdasan Spiritual,Konsep Diri dan Kemandirian Dengan Sikap Terhadap Budi Pekerti Siswa Sekolah Menengah Atas Negeri Di Kabupaten Buleleng. Desertasi. Denpasar : (tidak terbit) Pasca Sarjana UNHI.
Fudyartanta Ki. 2012. Psikologi Kepribadian. Yogyakarta: Pustaka Pelajar
Koyan, I Wayan. 2012. Statistik Pendidikan (Teknik Analisis Data Kuantitatif). Singaraja: Universitas Pendidikan Ganesha Press.
Sugiyono . 2011. Metode Penelitian Pendidikan ( Pendekatan Kuantitatif, Kualitatif dan R&D). Bandung : ALFABETA, cv.
Supartini, Anak Agung Ngurah. 2012. Kontribusi Bimbingan Keluarga Terhadap Tingkat Kemandirian Pada Siswa Kelas X SMK N 1 Singaraja Tahun Pelajaran 2011/2012. Skripsi
Suryabrata Sumadi. 2013. Psikologi Pendidikan. Jakartra: Rajawali Pers
Tirtarahardja, Umar dan Sulo S. L. La. 2005. Pengantar Pendidikan. Jakarta: PT RINEKA CIPTA.
Fudyartanta Ki. 2012. Psikologi Kepribadian. Yogyakarta: Pustaka Pelajar
Gunarsa, Singgih Dipta. 2000. Psikologi Untuk Keluarga. Jakarta: Gunung Mulia
Khairani Husnul. Makmun. 2013. Psikologi Perkembangan. Yogyakarta: Aswaja Presindo
Koyan, I Wayan. 2012. Statistik Pendidikan (Teknik Analisis Data Kuantitatif). Singaraja: Universitas Pendidikan Ganesha Press
Dantes, Nyoman. 2012. Metode Penelitian. Yogyakarta: Andi Offset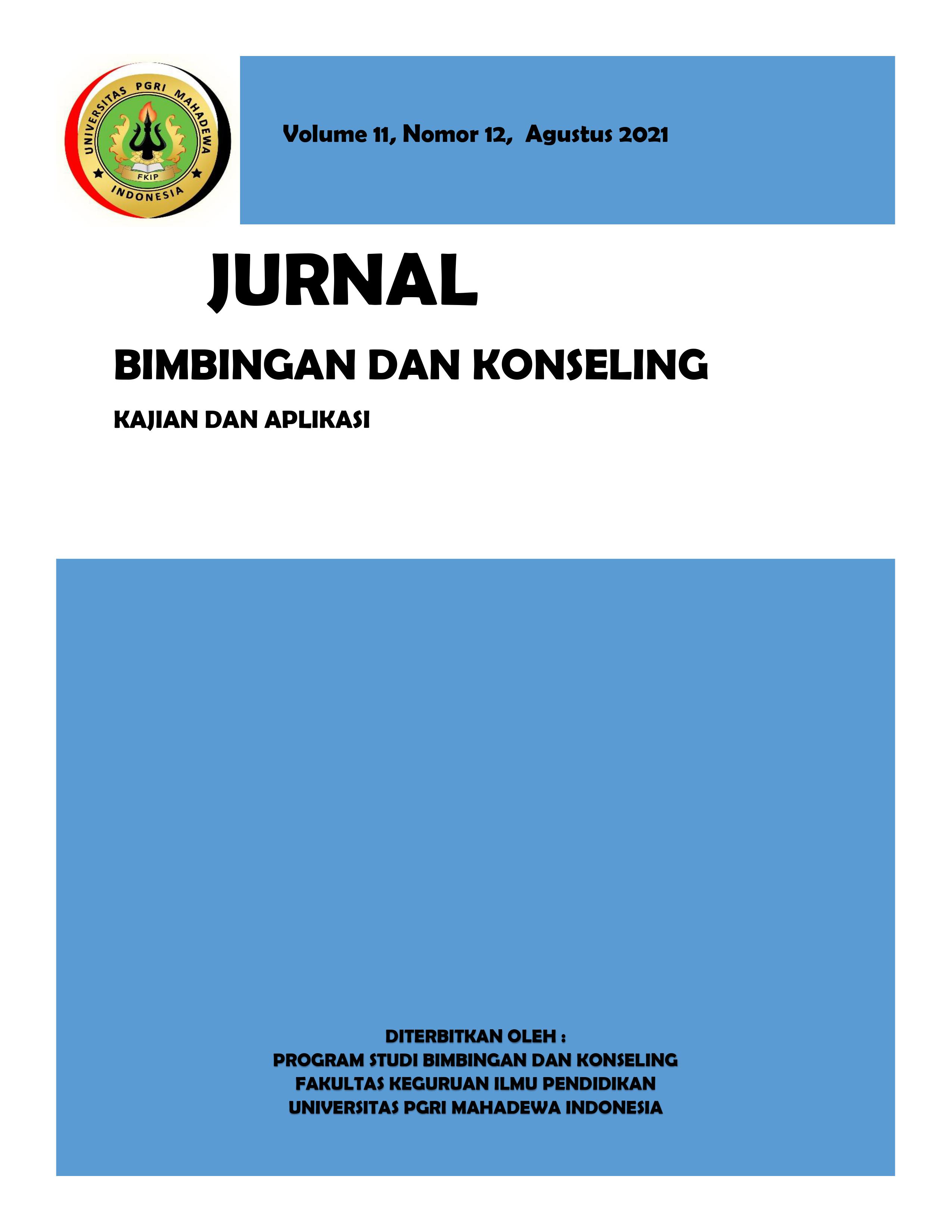 How to Cite
Mahaardhika, I. M., & Eka Purba Dharma Tari, I. D. A. (2021). HUBUNGAN POLA ASUH ORANG TUA DENGAN TINGKAT KEMANDIRIAN ANAK DIKALANGAN SISWA KELAS XI SMK NEGERI 1 DENPASAR TAHUN AJARAN 2019/2020. Jurnal Bimbingan Dan Konseling: Kajian Dan Aplikasi, 11(12), 37-41. https://doi.org/10.59672/jbk.v11i12.1264